How Tipsy Elves is Creating Inclusivity, Opportunity, and Fun for its Team at Wells Fargo Plaza
Based out of Wells Fargo Plaza, Tipsy Elves has been the source of the world's most outrageous party clothing since 2012. What initially started as a business providing ugly Christmas sweaters has grown into a party-fashion revolution.
That revolution is driven by a desire to create more inclusivity, social connection, and fun between people. "Tipsy Elves is on a mission to make the world a more fun, positive place. Our idea is that our products allow our customers to have these experiences that they wouldn't otherwise be able to have," explains Brand Marketing Director Richard Goff. "Our products are more eye-catching, bold, and out-of-the-box to equip our customers with that ability to connect more socially."
"Our office is a little bit like our lab in the sense that we're coming up with these crazy ideas collaboratively as a team. Having a space that supports that is really important."

Richard Goff, Brand Marketing Director, Tipsy Elves
While the brand's reindeer pullovers and Santa onesies found immediate traction in the burgeoning e-commerce market, a notable appearance on Shark Tank helped propel the business to new heights of popularity. Soon, they were breaking into more holidays with patriotic red, white, and blue jumpsuits for the Fourth of July, neon ski suits, and more. They were also filling up the Tipsy workshop.
Goff recounts that things began to get crowded: "The space we were in before hit capacity on the number of people we could have together all at once. We had a lot of overlap on spaces like meeting rooms and a big wonky list of sign-up sheets for meeting spaces and things."
Ready to grow and determined to find a new space, Tipsy Elves looked for a new home last year. The new space would house marketing, content production, product development, and more all under one roof. To support all these departments, the space would have to be sectioned out enough to photograph new outfits for social media campaigns and open enough for design and strategy teams to collaborate on exciting new products.
"Our office is a little bit like our lab in the sense that we're coming up with these crazy ideas collaboratively as a team,' explains Goff. "Having a space that supports that is really important."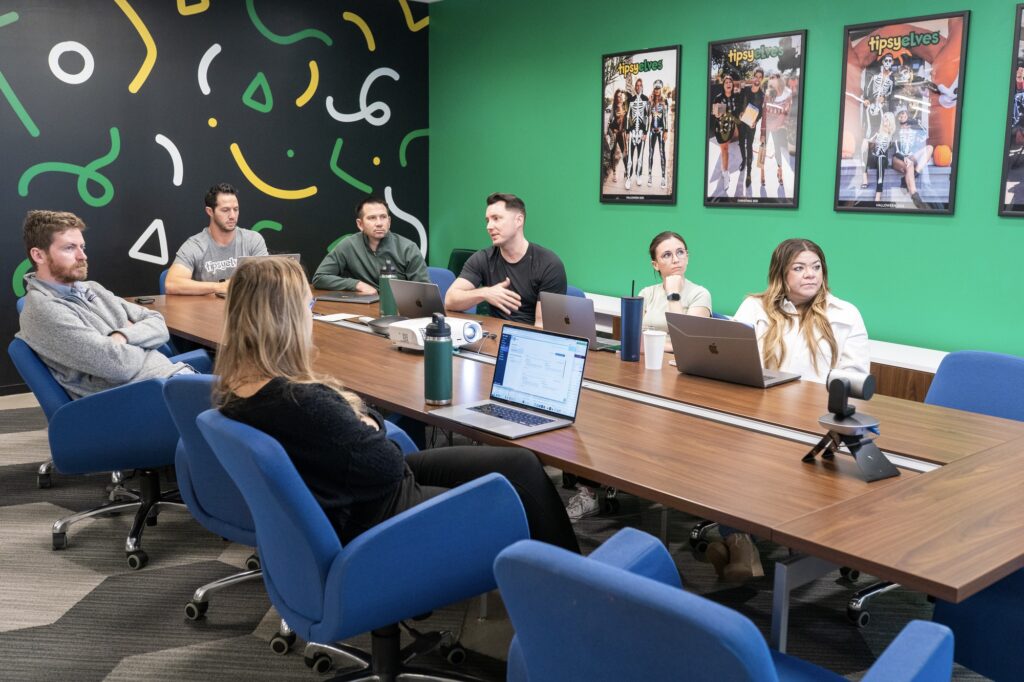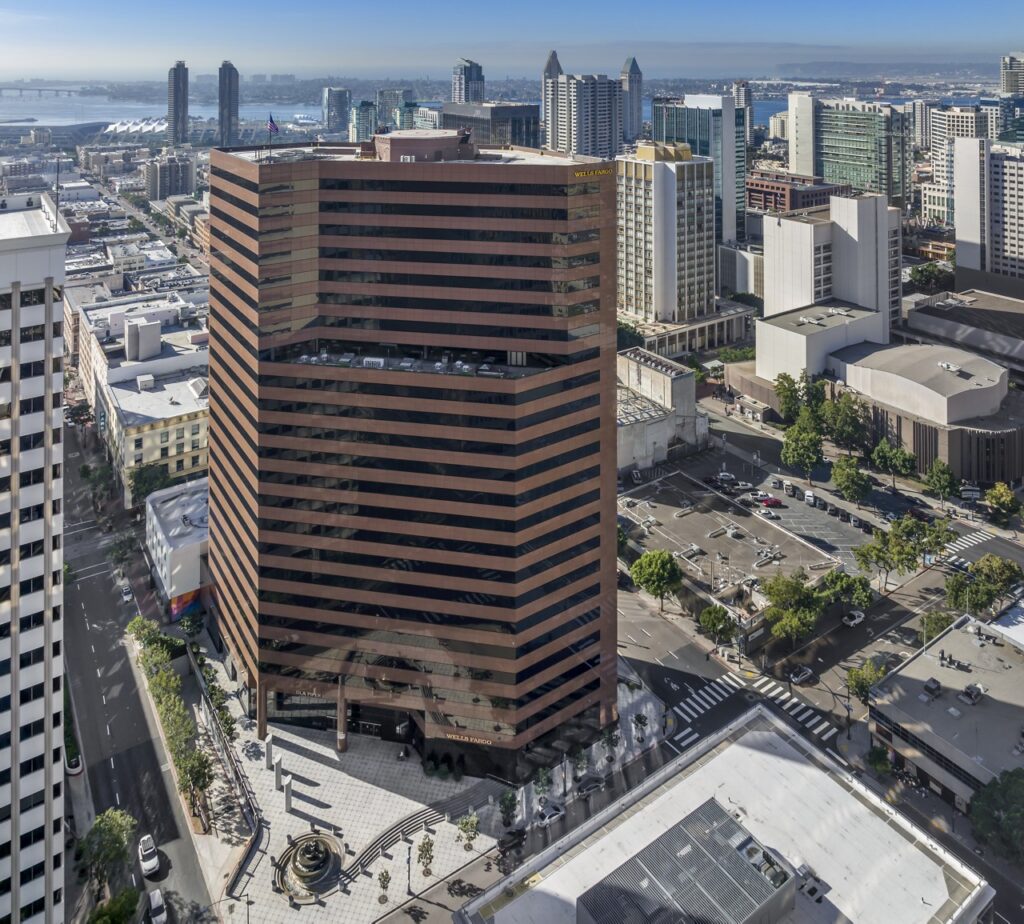 Goff credits Wells Fargo Plaza's large, flexible floor plans for supporting their creative "lab" environment: "Being in Wells Fargo Plaza gives us the flexibility to have meeting spaces to collaborate, and just the physical layout of the office kind of gives us territories to work with photography and production and design, and so it's super important to have a space that allows us that flexibility and utility."
Just as importantly, it's also given them room to have more fun. Goff enthuses that "Tipsy Elves is fun. We're all about fun. It's our mission here. We make products that are fun.
Our team atmosphere is fun. So I think that is a theme that comes up a lot both in our brand values, our products, and then just the space that we work out of." The clothing brand has made the office space their own in their outrageous signature fashion. From a life-sized tipsy-elf mascot in the lobby to confetti wallpaper and Christmas tree-green workstations, the space is perpetually ready for work and play — often both at the same time.
As a San Diego-based start-up, the location and unique features of Wells Fargo Plaza have also delivered unparalleled convenience to the Tipsy Elves team. Team members appreciate how the downtown location and included parking allow them to zip in to work and out to appointments when needed. Other amenities are more unique. "There's this delicious sandwich place on the third floor," shares Goff, "Plaza Deli. They know my name. They know my order."
Onsite features like the deli allow team members to grab a bite on a busy day and still enjoy lunch in the outdoor dining areas or spacious shared workspaces. For bigger team celebrations and offsite lunches, restaurants in nearby Little Italy and the Gaslamp Quarter provide ambiance and unique flavors within walking distance.
Since their move in last year, the company team has grown by nearly 40%. As the world warms up to their bold vision of party attire they still have plenty of room in their office and their market.
What's next for Tipsy Elves? "One billion dollars in sales each year," jokes Goff. "No, but seriously, that will be next eventually. In the nearer term, we just want to continue on that same mission we're on to make the world a more fun, positive place where our clothes help customers have unforgettable experiences. But on a larger scale connecting with more people."