How 3 Companies Built Their Culture via Workspace
Corner offices or an open floor plan? Conference rooms or team space? These aren't arbitrary design decisions. Your workplace is a physical manifestation of your company's culture, values and employer brand. The design decisions you make for your workspace profoundly impact how your employees work and their opinion of you as an employer. When you design for culture, you're designing an environment that empowers employees to work together to come up with innovative products and ideas.
Take a look inside three ambitious workspaces intentionally designed to build a strong company culture that drives business success.
Click to read their stories.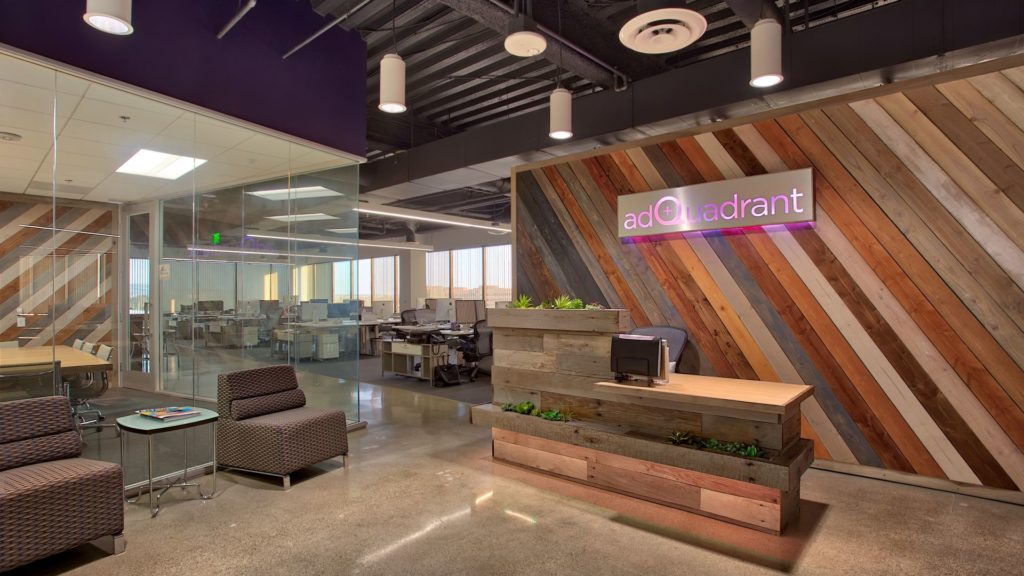 "We're a value-driven, culture-first company: we lead with culture, we hire for culture. And ground zero for this culture is our workplace," says Arjun Jolly, co-founder and COO of adQuadrant, a digital advertising firm based in Orange County.
It's hard to believe there was a time when adQuadrant – recently ranked as a top place to work in Orange County – didn't place company culture at the core of its business. The company has been trusted to represent well over $250 million in digital media ad buys on behalf of its clients, thanks in no small part to its passionate and hardworking employees. When the company first started, however, brothers Arjun and Warren Jolly were so focused on the daily hustle that they put culture and office design on the back burner. 
"We were young entrepreneurs who didn't understand how important an office environment was for building culture and a strong employer brand," says Jolly. "When we decided to take over the fifth floor in the Pacific Arts building, we had the opportunity to design our workplace from scratch. Warren and I started by eliminating every private office, including our own."
The reason? Arjun and Warren wanted to send a clear message that everyone is a single team. "We all work side-by-side, collectively driving towards our vision and performing for our clients every day."
The workspace reflects the company's two core values: collaboration and service. In addition to removing private offices, the brothers tripled the size of the kitchen. It now features a wide, custom-made island, ideal for team bonding. Smaller breakout spaces give employees the flexibility to collaborate on their terms. The glass-walled team rooms are adjacent to a long wall of windows, which flood the space with energizing natural light.
The radical redesign paid off. "Employees aren't required to be in the office every day, but the vast majority choose to come in because we've created an environment where they genuinely want to be."
For brothers Anwar Husain and Omar Imani, co-founders and co-CEOs of Smashtech, their new 22,000-square-foot workplace on the 33rd floor of Symphony Towers in downtown San Diego's Financial District is a culmination of childhood dreams, much like the company itself.
"We wanted to create a place that we look forward to coming to every morning," says Anwar. Their employees share a love of the space, which has been reflected in Smashtech's ability to recruit and retain talent. Employees linger in the team lounge on Friday evenings and come in on Sunday to watch football on the theater-size screen.
The workplace features polished concrete floors and exposed ceiling infrastructure are juxtaposed with moldings, elegant light fixtures, plush furniture and luxurious finishes. But the sleek and sexy fusion of industrial and residential influences is about more than creating a visually stunning space.
"Our theme is 'Surrounded By Greatness,'" says Anwar. "Not only are the people that make up Smashtech great, but throughout the space you'll find pieces of our personal memorabilia collection from people that have changed history like Muhammad Ali, Abraham Lincoln and Babe Ruth. that inspire the team to success."
"People are completely blown away when they come here for the first time. They can't even conceptualize that this is an office. It's an environment that people want to be a part of and then once they are a part of it, they never want to leave."
As an architecture and design firm specializing in commercial office interiors, SAA set a high bar when selecting a new workspace for themselves. The firm sought a space in the heart of Orange County that would reflect the fun, creativity and vibrancy of their company culture. 
"Investing in employees and building a strong culture is key to a company's success," says SAA Principal Anne Algaze. "This starts with designing the right workspace."
Algaze and her team found their solution at The Launch, an energetic space that fits SAA's lively and collaborative company culture.
"We are a fun and creative company and The Launch is a place where our team can grow and thrive," says Algaze. "For example, we have a break room in our reception area. It's different, it's unique, it's pushing the boundaries for what you expect, and it's ideal for team collaboration."
SAA's employees are thriving at The Launch, thanks to its collaborative design that prioritizes face-to-face interaction. High top tables, soft seating areas and outdoor fire pits encourage employees to get out from "behind the screen," creating opportunities for the casual interactions that spark new ideas. 
"From the moment we walked into the space, we knew The Launch would be something special," says Algaze. "It's a space you want to be in. It feels like a home away from home."