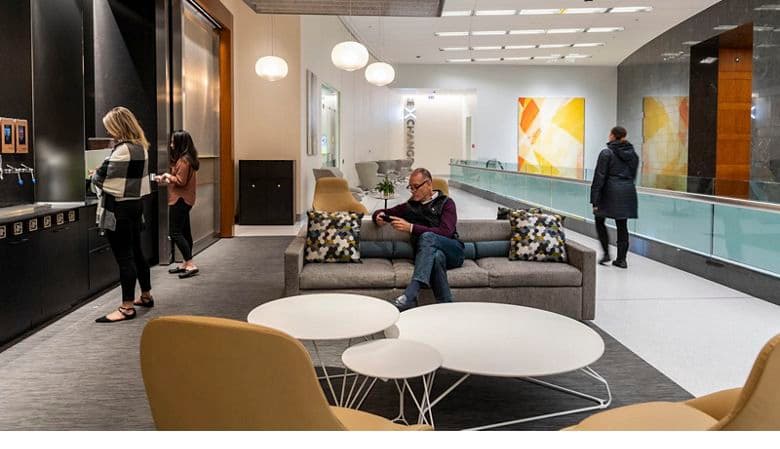 The late Steve Jobs envisioned an environment that promoted serendipity and unintended consequences — a place where unplanned encounters could promote collaboration. The idea that interior spaces can foster and promote engagement certainly isn't a new concept, but it is evermore at the forefront of contemporary workplace design. This is the creative engine behind co-working spaces across the nation and has recently been brought to the working community at 71 South Wacker.
Just this week, a grand opening celebration was held on the Mezzanine Level where The Exchange, 71 South Wacker's new amenity space, has been unveiled. A travel-inspired adventure theme invited members of the Irvine Company Chicago community to explore the fresh spaces including the Café, the cutting-edge Kinetic Fitness Center, the Taproom and the newly-imagined Lounge and Venue spaces.
The promise of The Exchange is to offer customers the opportunity to engage with one another organically — casual collisions — regardless of their department or company. Read on for an in-depth look at The Exchange.
The Digital Art Wall
Chicago is no stranger to public art, and neither is the Irvine Company. The recent launch of 'Art on theMART' is a testament to community engagement through art. The Digital Art Wall installed in the back lobby showcases stunning imagery of Chicago's landmarks through a modernized experience and serves as a fantastic introduction to The Exchange.
KINETIC® Fitness Center
Customers looking to get energized can use the state-of-the-art elliptical machines and free weights at the KINETIC® Fitness Center. Membership also includes KINETIC® apparel for those looking to squeeze a workout session into a busy workday.
Taproom + Lounge
Skip the long wait at happy hour by grabbing a drink at the Taproom. This self-pour concept is certainly catching interest in Chicago. There are two principles at play here, choice and convenience. Customers are given an RFID card to load money onto and simply swipe and pour. The Self-Pour Bar +Lounge is open from 4-7pm on Tuesday – Friday.
Café + MRKT
Employees can enjoy an updated servery experience with refreshed dining areas which can be converted into an event space. Enjoy breakfast and lunch from The Exchange Café or any grab-n-go snacks from the MRKT. These days, since employees can work from almost everywhere, having access to these inviting touchdown spaces is a must.
Propelling your business to the next level is part of the promise of Irvine Company, which is why we continue to revitalize our workplace communities with remarkable on-site experiences. Personalized customer service and customer-centric community offerings make a for a friction free workday leading to an even better tomorrow.