Watch how Frost Giant Studios leverages their interactive, open-air workspace for a truly collaborative approach to game development.
That's a refrain Tim Morten, Production Director and CEO at Frost Giant Studios, has heard a lot of these past months.
When Frost Giant Studios, a new, real-time strategy (RTS) gaming studio launched mid-pandemic, the team didn't have a physical office. They turned to Irvine Company to find the perfect space to match their collaborative and creative company culture, and ensure they had plenty of flexibility for future growth.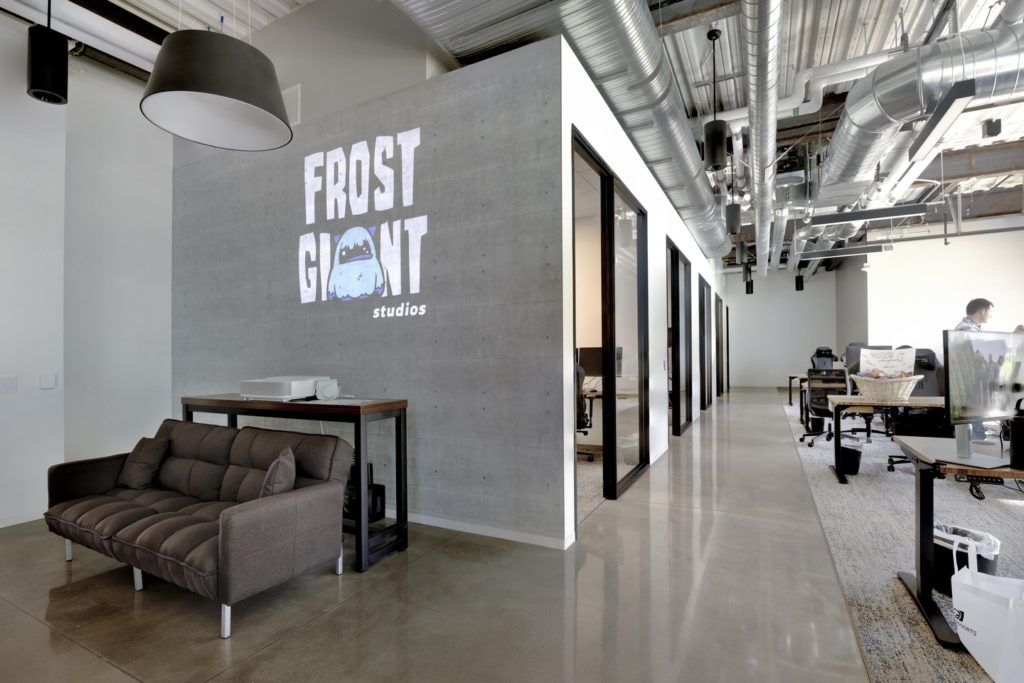 "Our senior team came from Blizzard, so we're very familiar with Irvine Company's workspace offerings," says Morten. "Innovation Office Park is a natural fit for our creative approach and growth needs, and the amenities are outstanding."
As the first open air office village, Innovation Office Park is designed for creative companies like Frost Giant. Seamless indoor-outdoor connectivity via operable garage doors plus a modern aesthetic with polished concrete and open ceilings perfectly match the gaming studio's needs.
"We opted for a flexible lease that gives us the space to scale quickly in the future. We have expansion opportunities right here at Innovation Office Park when the time is right."
Given the hunger in the real-time strategy community for a new game, Frost Giant is well-positioned for future growth.
The team uses feedback from real players in their gaming community as their development compass. This includes engaging their fan base with a subreddit where they post topics every other month about design decisions, along with a newsletter and YouTube channel. At the end of the discussion period, they write up a summation of what they saw in the comments and some of their own thoughts about what they'll build moving forward – a truly collaborative approach to game development.
This same commitment to collaboration extends to Frost Giant's physical workspace.
"There's nothing quite like sitting next to people and jumping into a brainstorm," says Morten. "Working from home, we experienced a 20 to 30% degradation in velocity. Individuals were still productive, but we weren't productive in sync. When we're together, we can be sure we're all rowing in the same direction."
Currently, the team follows a hybrid schedule to bring key team members together throughout the week. Staying in sync together will become increasingly important as the company grows – and their new workplace is already fueling this growth.
"The community of developers to recruit from is incredibly strong in Irvine, and these individuals expect a certain level of amenities in the workplace. Having an office at Innovation Office Park has been a huge bonus for recruitment. This is probably the nicest fitness center we've ever seen." 
The team is already using the conferencing and event space. Recently, they held a preview event that included a livestream for investors and insiders followed by an outdoor happy hour at Olive Grove, the onsite dining and bar space.
"We're excited to carry forward the legacy of epic storytelling, innovative co-op gameplay, and celebrated esports that make RTS games great – and our new workplace will play a key role in the collaboration and creative development that will make this possible."