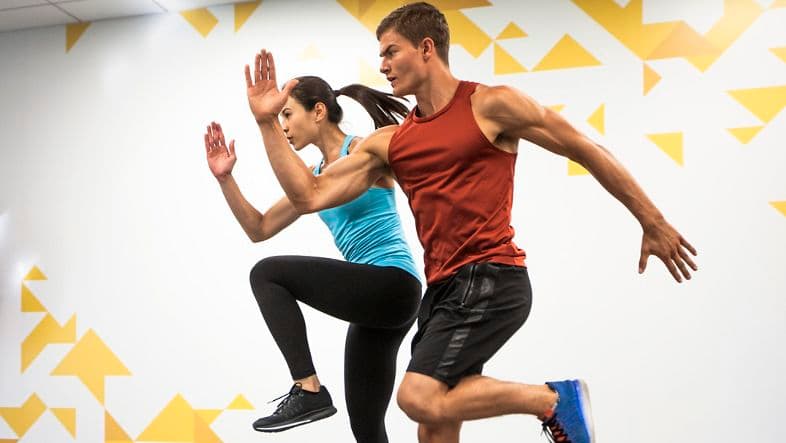 It seems like everyone is on the move at Irvine Towers! With over one million square feet of workspace that spans five buildings, this dynamic Irvine Company Office Property offers an energetic, community feel in the heart of Irvine. Currently undergoing a massive reinvestment, Irvine Towers is set to boast several new projects in the coming years, including renovated exteriors, gourmet dining (the property is gearing up to welcome Davio's Northern Italian Steakhouse) and The Commons, which will be the indoor/outdoor epicenter of this vibrant workplace community. Irvine Towers is a member of the hybrid-electric fleet, partnering with Advanced Microgrid Solutions to provide renewable energy through Tesla batteries to its buildings.
With all of its incredible amenities, one facet of Irvine Towers has been a source of fun and camaraderie among both customers and staff – KINETIC, a workplace fitness and wellness movement fueled by Irvine Company. From health and wellness events to group fitness classes, KINETIC thrives at Irvine Towers. "There's a great work-life balance here," says Victoria Hunt, Manager of Operations, "I think Irvine Company is really great at creating that inside and outside."
At Irvine Towers, access to the on-site KINETIC is complimentary, which proves to be a big selling point for customers. After purchasing an access card and signing a waiver, customers can take full advantage of KINETIC's high-tech exercise equipment, free of charge. Featuring state-of-the-art equipment by Technogym, KINETIC gives visitors the chance to immerse themselves in a one-of-a-kind fitness experience. For example, if you want to run along the Golden Gate Bridge, you can be transported to that location with the click of a button. At KINETIC, the cardio equipment can be set to mimic the specific inclines and declines of a designated area, including famous landmarks. Moreover, most of the equipment features television screens that provide a virtual setting for the exercise.

Irvine Towers is, overall, an office property and KINETIC is designed to cater to customers who want to work smart and live well. For customers who need to squeeze in a quick 15-minute workout, KINETIC equipment includes customizable settings that deliver bracing workouts in shorter intervals. The workplace community also offers yoga and boot camp programs for customers who are looking for a more structured, group fitness class. "I don't know one person who has taken a yoga class and not returned. It's really for all ages and all styles," says Hunt. Occurring twice a week during lunchtime, the yoga program has proven especially popular as it gives participants a chance to relax and unwind during work hours.
"Onsite yoga is amazing! What a blessing it is to be offered the space and time to reset mind and body in the middle of a busy workday. Your guidance has been fantastic. Thank you." – Robert
And these yoga classes are not just for customers – some of the program's biggest fans are Irvine Towers employees. Manager of Operations Shenin Stapinski appreciates the convenience and tranquility lunchtime yoga offers: "It's workplace yoga – it's not hot yoga, it's not super intense. You're able to go, stretch and refocus. It's nice to get away for an hour; you're able to sit back at your desk and have some clarity. It's really beneficial." According to Stapinski, these classes average between 20 and 25 people per class, making it one of the most well-received on-site fitness offerings. KINETIC provides attendees with yoga mats, blocks and other resources to make the experience as convenient as possible.
Customers who are looking for something a little more active can sign up for on-site boot camp classes. Led by a former marine and personal trainer, these classes average 15 to 20 people per class. These classes have been specially tailored to cater to all experience levels and age groups.
To make signing up for classes as easy as possible, the KINETIC team gives customers the chance to enroll via the KINETIC app, either on a desktop platform or in-person. In terms of pricing, KINETIC offers unlimited yoga for $20 a month and drop-in classes for $5. Bootcamp is priced at $60 for a six-week series with drop-in classes for $10.
In addition to group fitness classes and state-of-the-art facilities, KINETIC at Irvine Towers also hosts seasonal flu-shot stations and blood drives. The on-site team also hosted a Walking Challenge that encouraged the entire property to get their steps in with the top walkers receiving a prize. KINETIC sent motivational emails and created a leaderboard to get the property excited. In the end, the initiative was a total success.
"I really enjoyed the Walking Challenge! It was great being out and about; it made me enjoy a nice mid-afternoon walk instead of eating lunch at my desk. There were so many benefits and I have the Irvine Company to thank for getting this body moving quite a bit more." – Kathie, an Irvine Towers employee and winner of this year's Walking Challenge
Opportunities like the Walking Challenge and the ongoing list of community events makes working at Irvine Towers a special experience for Hunt: "Tuesdays we host a farmers market, Thursdays we have food trucks, Wednesdays we have a mani-pedi truck, there's always something going on here. We truly have the opportunity to think outside the box and do something different."
For Stapinski, Irvine Towers excels in creating an overall sense of community: "Our property is really unique in that we have five buildings. Here it's more of a community. If you come here on farmers market day or during one of our community events, you will see tons of people in The Commons. It kind of just explodes. We all just kind of come together and I think that is the special part of this property."
For more information about KINETIC, click here.