Adam Markowitz is a rocket scientist on a mission, but not the one you might imagine. This month, The Vine is excited to feature a founder on a mission to empower a group Newsweek recently referred to as "Millennial College Graduates: Young, Educated, and Jobless". According to published statistics, less than 13% of Millennials are actively using LinkedIn today – despite the growing skills gap that has more than half of all recent graduates unemployed or under-employed. In a show of his naturally entrepreneurial spirit, Markowitz set out to solve this problem by founding Portfolium.com, but not before working as an aerospace engineer designing, analyzing and testing liquid rocket engines for NASA's next generation space launch system. You know–no big deal.
Today, Markowitz has grown his company to a team of 10 and created a ground-breaking product that intuitively allows even an older millennial (I timed myself) to create a profile in under a few minutes. His business is growing so quickly, that he's recently taken advantage of one of our most exciting value propositions…seamlessly moving into an office space that fits his team as it grows.
We had the pleasure of speaking with Markowitz about his business, the trials and rewards of entrepreneurship, and his experience at The Vine San Diego via our partnership with EvoNexus.
ELEVATE: Can you tell us about Portfolium in a nutshell?
ADAM MARKOWITZ: Of course. Portfolium is an academic ePortfolio and career readiness network. It's a free tool for students and employers to connect based on the students' work and projects that they showcase in their ePortfolios. So…a similar concept to Linkedin, but focused more for those who wish to prove their skills and competencies beyond the traditional resume.  Typically, students don't have a robust professional work history to showcase on a resume or Linkedin profile, so their university provides them with a digital portfolio within their exclusive Portfolium network to visually showcase all of their relevant coursework and projects. [Learn more about how Portfolium connects learning with opportunity here] 
ELEVATE: And we know you're a recent graduate of the EvoNexus technology incubator, is that right?
ADAM MARKOWITZ: Yes, we were at EvoNexus for actually over a year. We grew from just two of us to now a staff of 10. The experience was invaluable. As a first-time entrepreneur, there was a lot to learn, and very quickly. Surrounding myself with that kind of mentorship and access was such a fantastic experience.
ELEVATE: Wow. That's excellent! We know running a startup is not an easy life. What keeps you inspired?
ADAM MARKOWITZ: Focusing on the mission at hand – to connect learning with opportunity. There have never been more opportunities to learn. Whether it's a new skill, curriculum-based, an extracurricular activity, or anything in between.  However, it's time we link this learning to real opportunities – an internship, a career, or even just an opportunity to learn more. We need to break this learning free from its silos to truly connect it with opportunity, and now that it's already begun we couldn't be more motivated and inspired.
ELEVATE: So, now that you've made the move to your own "ReadyNow" office space with Irvine Company at Wells Fargo Plaza, how is that going? How is your space helping your growth and how has the transition been?
ADAM MARKOWITZ: It's been fantastic. Being at EvoNexus, we learned about Irvine Company and the difference between other landlords. We knew we wanted to stay within the Irvine Company family here in San Diego.  Moving from The Vine San Diego  to a ReadyNow Office is helping to elevate our business, and we're pleased that we'll be able to continue to expand within the Irvine Company portfolio as we grow our team.
ELEVATE: Right..that's one of the things we're most passionate about at The Vine San Diego…seeing our members actually grow into other Irvine Company spaces!
ADAM MARKOWITZ: Right… So when we left EvoNexus we actually had 6 of us there full time. We now have 10 full time with 5 interns. So there are around 15 of us here on any given day in this new space.
ELEVATE: That's great. And how about San Diego? Do you think it's a great place for entrepreneurs?
ADAM MARKOWITZ: It really is! The ecosystem is growing and because it's still relatively small and centralized–a lot downtown for the tech community–it's really close-knit, with everyone rooting for one another, which isn't always something you get in other cities. EvoNexus is essentially the hub of the downtown tech community, which was invaluable for us as we were growing the company in the early days. Half of our team currently lives downtown and we appreciate the convenience of being able to walk to the office. A few of us are from L.A. and we remember very well sitting in that traffic to get to work, so we do not take walking to work for granted. San Diego has been great to us in so many ways;  the business, the culture–everything. We're very proud to be growing the company here. And when we take a break from all of the work (which is very, very rare), we find great new places to eat all of the time – many that deliver to the office, which is great. Yeah. It's super fun.
[Related Content: Startup Scene San Diego – Top 5 Post Work Hangouts]
ELEVATE: Talk about your workspace a little bit. I know you have about 2,300 square feet or so. How is that working for you and meeting your needs?
ADAM MARKOWITZ: So far, it's perfect. We have one large conference room which is great for group meetings, meetups and strategy sessions. We have a common area where everyone has a desk–myself included. That's part of our culture here. We have three private conference rooms available to anyone who needs privacy for a phone call or video demonstration. But again, everyone has a seat in the common area, so we have constant communication and transparency.
ELEVATE: Does that proximity assist in collaboration and productivity?
ADAM MARKOWITZ: Yes, absolutely and intentionally. It helps with collaboration and also in just establishing the culture that we have. No one at the company has a private office that they can lock themselves into every day (laughs). Conversations are loud enough for most to hear and everyone is approachable, and that's how it should be for our company.
ELEVATE: How do you think your new office space may impact recruiting and retention of employees?
ADAM MARKOWITZ: We've already started to see it. In fact, it was a little odd for us– having been at EvoNexus for so long–to hire someone who had never seen 'where it all started'. They'd only seen this great new office – but that's super exciting for us!  And then just the fact that we're in San Diego. We've had a couple of people actually make a move from Seattle and San Francisco to join the team here in SD.  We love that we can say, "Hey, come work with a fun, passionate group in San Diego… with an ocean view!"
ELEVATE: Absolutely, we love San Diego! How do you think your office will impact your brand?
ADAM MARKOWITZ: That's a good question. So that was pretty important for us. It was one of the benefits of graduating from EvoNexus and setting up our own office–not just for our own culture, but for the brand itself. We actually have a wall here dedicated to hosting banners for every one of our partner universities – every new partner university is a key milestone in our growth as a company and brand, so we proudly hang a banner for each partner school.  When we have university administrators, presidents and provosts from these universities come visit the office for meetings, they see their school's banner hung proudly up on the wall. It's so important for us to emphasize the importance of our mission to our partners, so it's just another great benefit of being in our own space.
ELEVATE: Was there ever a time when you almost gave up along the way? What did that feel like and what kept you going?
ADAM MARKOWITZ: Being a first-time entrepreneur, I had a lot to learn… and really fast! It was another huge win being in EvoNexus where I was surrounded by more experienced entrepreneurs, advisors, mentors, and eventually investors. I've always been a fast learner and willing to learn whatever somebody was willing to teach. So that was kind of a dream come true, but..there's never been a time when I thought about giving up–even when bootstrapping for 10 months, wondering how to pay rent. I was and still am just too passionate about what we're doing and the problem we're solving.
ELEVATE: And as the founder and CEO, how do you balance being the boss and the desire to be the "Cool Dad" of the office? Looks like your team has a lot of fun working. Does it get hard sometimes if you have to have tough conversations with people?… How do you balance all that?
ADAM MARKOWITZ: Sure. We have a lot of fun. Yet early on, Daniel (co-founder), Royce (co-founder) and I naturally established a culture of over-delivering, as it was something inherent in us three. And we over-delivered for everyone – our customers, our partners, and of course each other. One thing that I try to do is lead by example and continue to engrain that culture of over-delivering. It really is contagious and I think it's really helped set the stage for the company as we continue to grow. It's amazing what happens when you surround yourself with passionate people with the same values on the same mission.  It's extra rewarding to grow closer daily as a team while still having a lot of fun both inside and outside of the office.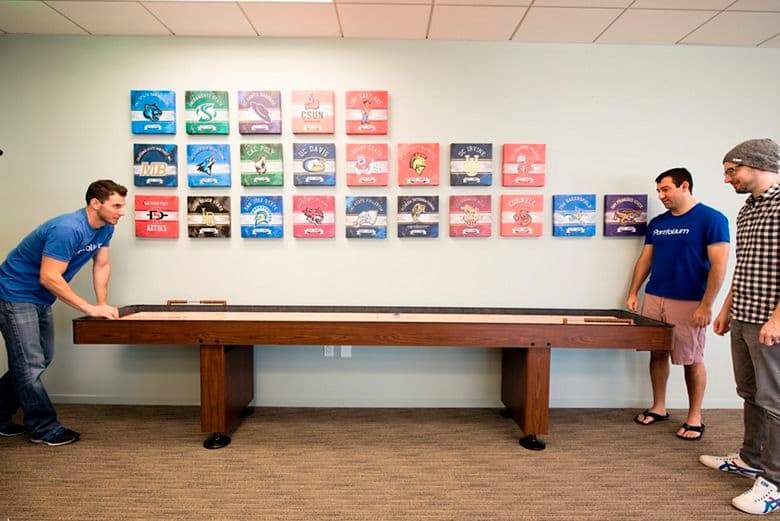 ELEVATE: What is the one piece of advice you'd give to someone wanting to start a business?
ADAM MARKOWITZ: I would say to make sure you find something that you're incredibly passionate about.
ELEVATE: Is there something that gets you particularly excited during your workday?
ADAM MARKOWITZ: Absolutely! Because Portfolium is a type of social network (if you want to label it as one) the actual user success stories are what really fire everyone up everyday. There's not a day that goes by that we don't hear some sort of success story from a student, an employer or a partner university reaching out about how fantastic their experience has been with Portfolium. That validation is rocket fuel!
ELEVATE: That's excellent. It's always nice to get that feedback and to know you're on the right track.
ADAM MARKOWITZ: Absolutely!
ELEVATE: Any closing thoughts?
ADAM MARKOWITZ: Yes, I want to say 'thank you'. For everything. It's been fantastic, and I can't wait to share more exciting news soon!
ELEVATE: You are too kind! You and your business inspire the team at The Vine both in San Diego and Orange County to empower growing businesses with space and resources…and we're so inspired by and proud of the work Portfolium is doing.