As an entrepreneur, it's easy to work through the day with no thought of a lunch break. Fueled by adrenaline, our bodies suppress civilian style hunger pangs as we tirelessly slap our fingers onto our keyboards. We at The Vine think it's time we put a stop to this madness and go out for lunch! Not only does Orange County has some of the best restaurants in the world, you may also want to consider taking out clients to these hip lunch spots, a power lunch is sure to impress and you just may close that deal…no promises, but it's kind of a proven theory! Below are 5 lunch spots to check out next time you're looking for a nosh during business hours.
1.  Gulfstream: This American eatery is a perfect place to dine and do business. The atmosphere is incredibly sophisticated yet the menu won't break the bank. There are plenty of seafood options too. Try the Caesar Salad with fried oysters!
2. True Food Kitchen: This place has arguably the best decor in town. The open air indoor environment and outdoor patio really makes you grateful that you're eating lunch in Newport Beach. The fare is health conscious and they even have vegan options! The Red Chili Shrimp is the dish to order here.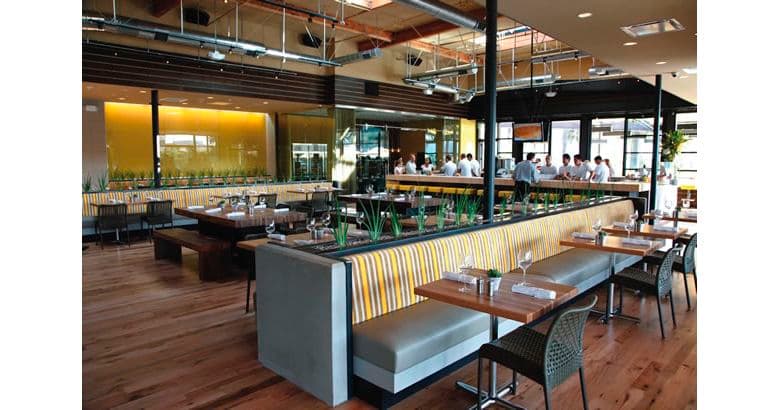 3. Summer House: When you enter this restaurant it feels like you're entering your grandmother's cottage nestled right on the beach. This place is not only cozy but they serve incredible, light, American food. This place gives off a vibe as being more intimate but you can't go wrong by eating lunch here. The pescetarian will adore the Blackened Ahi Sandwich and the omnivore cannot go wrong with the Avocado Bacon Burger.
4. R+D Kitchen: An open-air bar and grill that serves the American classics, From the looks of the inside you might think you're in a steakhouse…but the menu is as simple as they come and the ambiance screams "business." There's something about this place that attracts movers and shakers. If you can't close a deal here, just focus on the Greek Style Chicken entree and all will be well.
5. Anjin: Little do many OCers know, you don't have to drive to LA for amazing Japanese BBQ.  This place has daily two hour waits during dinner time but you can usually squeeze in a quick lunch, perfect for a meeting when you're looking to impress. The interactive experience (guests are allowed to cook their own food with an open grill at each table) is perfect for breaking the ice and forging bonds with new business partners. Need help navigating the menu? The Marbled Rib Eye may be some of the best meat on the West Coast.