at Jamboree Center

Fooda

Drop in for your morning coffee or stop by for lunch. Fooda features a rotating menu from a variety of local restaurants, plus Starbucks coffee beverages! Located at 5 Park Plaza, Suite 120.
Sign Up for WorkLife

WorkLife is your single source for updates about dining deals, fitness classes, special offers, events and more!



Get More from Irvine Company

Make the most of what's around your workplace community. Irvine Company offers everything you need to live, shop, dine, stay and play.
What's New
Jamboree Center Specials
Bistro24

 

Radicchio Salad Avocado, cucumber, breakfast radish, Gala apples, toasted hazelnuts and toasted sesame miso vinaigrette

Beef Barbacoa Sandwich Oaxaca cheese, pickled onions, crema, house made Bolio and side Baja slaw

Tamal de Queso y Rajas Mole verde, pepita and hazelnut crumble, epazote and Korean chili flake

Soup Special
Red curry cauliflower soup with crispy garbanzo beans and torn mint

Taco Special
Grilled Shrimp Taco with cucumbers, shaved radish, jicama, chipotle mezcal salsa, cilantro and lime

1 for $3.00 or 2 for $5.50 


fooda
 

Monday - Tuesday: Andalusia The Kitchen
Wednesday - Friday: Seasons Kitchen

 

    
marketplace - Hotel Irvine

Mon.
General Tso's Chicken Sticky Rice
Sticky rice, stir-fried veggies, egg rolls
Tue.
Beef Barbacoa
Cilantro rice, fajita veggies, refried beans
Wed.
Boeuf Bourguignon (Short Ribs)
Mashed potatoes, roasted brussel sprouts
Thu.
Grilled Free-Range Chicken with Chimi-Churi Sauce
Rosemary roasted potatoes and roasted veggies
Fri.
Curry Chicken with Tomato Chutney
Basmati rice, stir-fired veggies, egg rolls
Jan's @ Four

Mon.
Meat Lasagna with a Caesar Salad
$8.95
Tue.
Hot Pastrami Sandwich
$8.95
Wed.
Mediterranean Gyro Plate
$9.95
Thu.
Chicken Burrito
$9.95
Fri.
Poke Bowl
$8.95
Explore the New Commons at 3 Park Plaza
Upgrade Your Workday
Onsite Dining
Don't stress about what to eat during your work day. Check out these tasty on-site and nearby food options.
Bistro 24 - Located at 1 Park Plaza


Jan's at Four Catering & Cafe - Located at 4 Park Plaza


Fooda - Located at 5 Park Plaza


Hotel Irvine - Located at 17900 Jamboree Road


Harvard Place - Adjacent to Jamboree Center, this center features 10 restaurants and many conveniences
 
Health & Wellness
Integrate a fit life into your workday. These simple programs can get you moving.
 
ExpressCare • 17585 Harvard Avenue • 888.227.3312  


KINETIC Fitness Center - Located at 2 Park Plaza, Suite 150. Click here to sign up
 

The Lounge - Come unwind or connect over ping pong, shuffle board and more. Located at 5 Park Plaza, Suite 150


Sports Court - A basketball court and 9-hole putting green are located between 3 and 5 Park Plaza. Contact the CRC to reserve


Basketball League - Join our Spring, Summer or Fall basketball leagues. Get more information and register here


Zagster Bikeshare - Hop on a bike and go! Ride Zagster bikes for up to four hours for free


Workplace Conveniences
Enjoy these always-available on-site perks.



Conference Centers - Three on-site conference centers, each accommodating up to 49 people. Located at 2 Park Plaza, Suite 125, 3 Park Plaza, Suite 250 and 4 Park Plaza, Suite 320


Executive One Auto Detailing - Located in the parking structure adjacent to 2 Park Plaza


Dry Cleaning - Cleaning lockers are located in each of the parking structures 


The Commons - WiFi-enabled outdoor space located at 5 Park Plaza


ATMs - Located in the 3 Park Plaza Loggia and Hotel Irvine


Jiffy Lube - Park your car in one of the designated stalls at the 2, 3, 4 or 5 Park Plaza parking structures, deposit your keys and Jiffy Lube will pick up your vehicle, perform the requested services and return within 3 hours
Map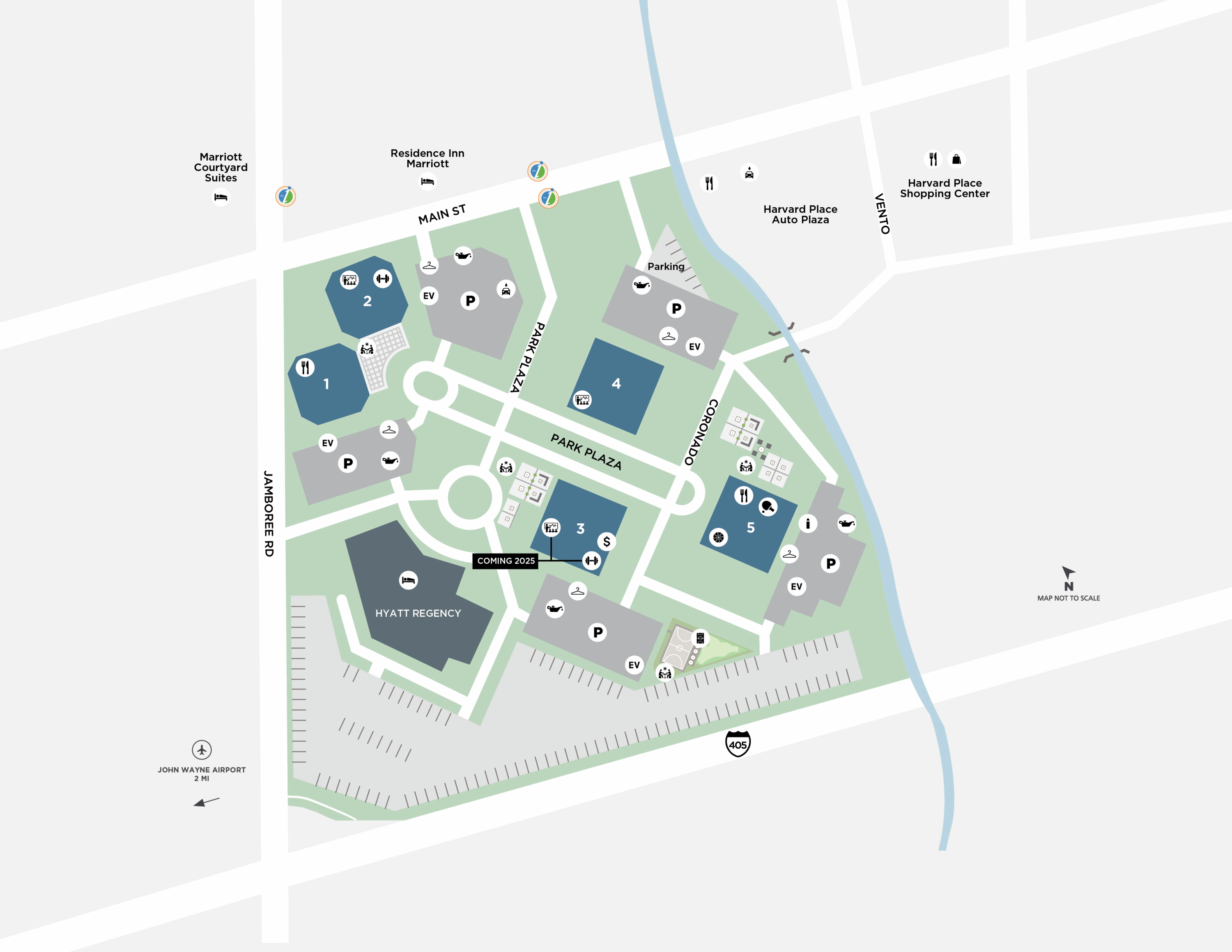 More from Irvine Company
Live
Irvine Company Office customers receive $0 security deposit and two waived application fees.*
Short-term, furnished apartments are also available.  
Shop & Dine
Retail Therapy offers instant access to hundreds of discounts and incredible deals from restaurants, retailers, spas, salons, and more throughout Orange County.
Stay & Play
Whether it's a memorable round of golf at Pelican Hill or Oak Creek, a thrilling boating adventure from one of our marinas, or the perfect visit to one of our hotels or resorts — the Coastal Collection from Irvine Company is here to provide you with a great experience.
$0 Security Deposit and Waived Application Fee Offer valid only on select vacant-ready units; subject to availability. Offer valid only for current customers of Irvine Company Office Properties. Offer subject to satisfactory credit (which requires established U.S. credit or trade lines) and application, applicant's enrollment in recurring online rent payment in the resident website, and acceptable proof of eligibility (pay stub, security badge or verifying letter on HR letterhead). Applicants with no credit or tradelines must pay a $300 deposit; other terms and conditions apply. Reduced security deposit of $0 or $300 (regularly between $600 and $800) and waived application fees valid for (i) new applicants only, (ii) approved, signed leases, and (iii) applicant's move in by August 31, 2020. Limit of 2 waived application fees per apartment unit. Offer can be combined with other offers; pet deposit not included. This offer not valid to Corporate Direct Applicants. This offer may be changed or cancelled at any time at the sole discretion of The Irvine Company Apartment Communities. Please contact the Leasing Center for complete offer details and floor plan availability. Irvine Management Company, a licensed real estate broker DRE LIC. #02041810
More About Irvine Company
1 / 3

2 / 3

3 / 3