at 100 Spectrum

On Site Dining

Take a break at our on-site dining, Spectrum Kitchen, every Monday - Friday from 9:30 AM - 1:30 PM at 400 Spectrum Center Drive.
Sign Up for WorkLife

WorkLife is your single source for updates about food trucks, dining deals, fitness classes, special offers, events, and more!

Group Fitness Classes

Sign up for group fitness classes at your KINETIC™ Fitness Center with Out-Fit NRG, starting at $25/month for unlimited classes.
Upgrade Your Workday
Onsite Dining
Don't stress about what to eat during your work day. Check out these tasty on-site food options.


Health & Wellness
Integrate a fit life into your workday. These simple programs can get you moving.


Yoga Classes - Every Wednesday at the 200 Spectrum Center Drive KINETIC™ from 12:15 to 1:05 PM
Workplace Conveniences
Enjoy these always-available on-site perks.


The Commons - Wifi enabled outdoor space at 100, 200, 300, 400 Spectrum Center Drive and 20 Pacifica


Envoy On-Demand Electric Vehicles - On demand, all electric vehicles for your use throughout the workday, per minute or daily rates available


Dry Cleaning - The Cleaning Locker is located at 100 & 200 Spectrum Center Drive and 30 Pacifica


Auto Detailing - Located at 100 & 300 Spectrum Center Drive and 30 Pacifica
Map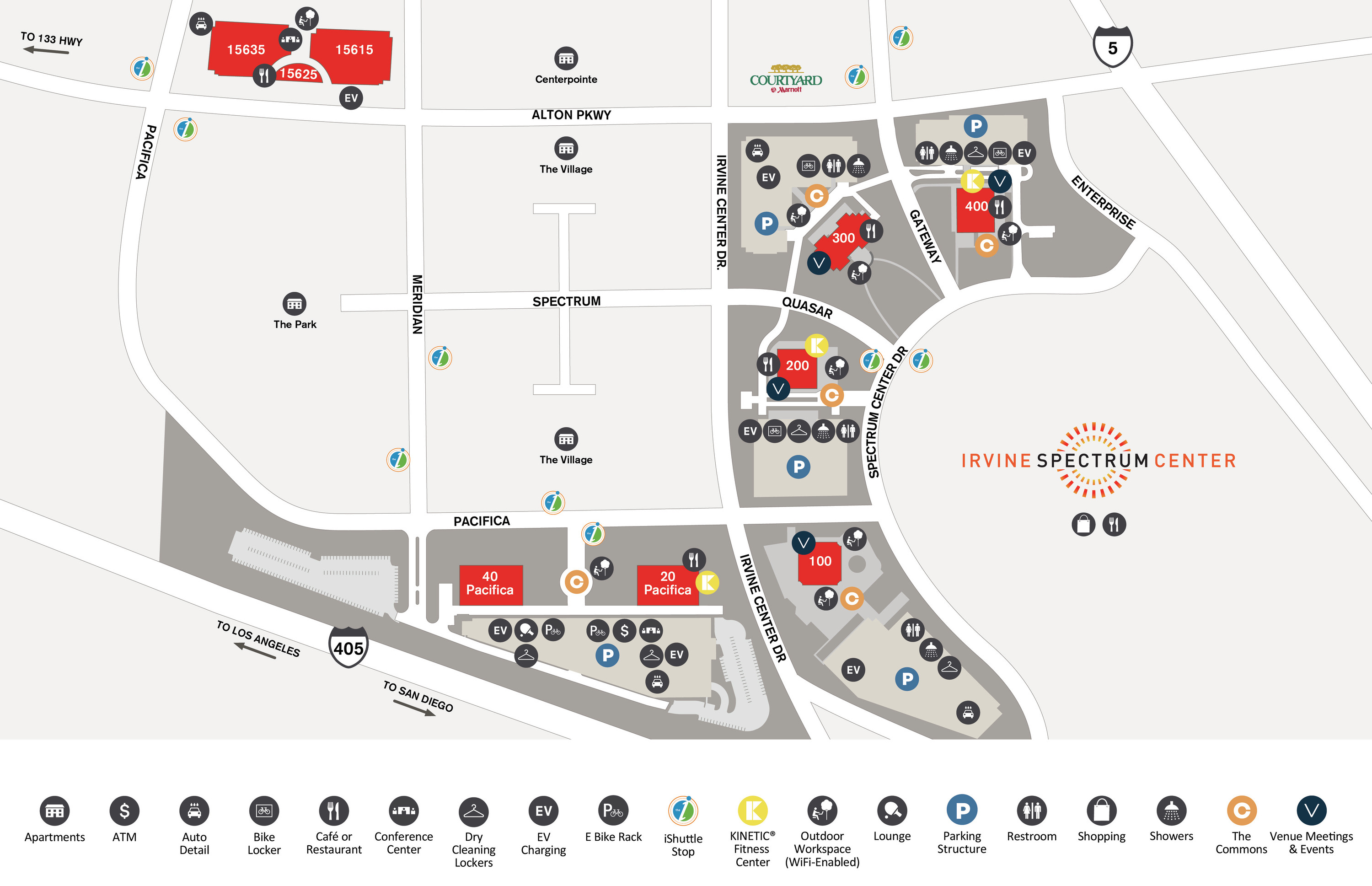 More from Irvine Company
Live
Irvine Company Office customers receive $0 security deposit and two waived application fees.*
Short-term, furnished apartments are also available.  
Contact Our Corporate Housing Team
Shop & Dine
Retail Therapy offers instant access to hundreds of discounts and incredible deals from restaurants, retailers, spas, salons, and more throughout Orange County.
Stay & Play
Whether it's a memorable round of golf at Pelican Hill or Oak Creek, a thrilling boating adventure from one of our marinas, or the perfect visit to one of our hotels or resorts — the Coastal Collection from Irvine Company is here to provide you with a great experience.
$0 Security Deposit and Waived Application Fee Offer valid only on select vacant-ready units; subject to availability. Offer valid only for current customers of Irvine Company Office Properties. Offer subject to satisfactory credit (which requires established U.S. credit or trade lines) and application, applicant's enrollment in recurring online rent payment in the resident website, and acceptable proof of eligibility (pay stub, security badge or verifying letter on HR letterhead). Applicants with no credit or tradelines must pay a $300 deposit; other terms and conditions apply. Reduced security deposit of $0 or $300 (regularly between $600 and $800) and waived application fees valid for (i) new applicants only, (ii) approved, signed leases, and (iii) applicant's move in by August 31, 2020. Limit of 2 waived application fees per apartment unit. Offer can be combined with other offers; pet deposit not included. This offer not valid to Corporate Direct Applicants. This offer may be changed or cancelled at any time at the sole discretion of The Irvine Company Apartment Communities. Please contact the Leasing Center for complete offer details and floor plan availability. Irvine Management Company, a licensed real estate broker DRE LIC. #02041810
Customer Resources
Customer Resource Center: (949) 453-2330
Meet the Team
Kandy joined the 20-40 Pacifica Team in 2011, and as Director, oversees Spectrum Office high rise and low rise.  Kandy holds a Bachelor of Science in Business Administration from the University of Redlands, and is a Certified Property Manager.
With over 20 years of experience in the retail and office property management, she joined Irvine Company Retail Properties in 2004, and Office Properties in 2013. Rossi previously managed 20 & 40 Pacifica as well as Palm Court. She will be overseeing the team management of 100, 200, 300, and 400 Spectrum Center.
Jaclyn joined the Spectrum High Rise Portfolio in 2017, and is currently responsible for the Operations of 100 & 300 Spectrum Center Drive. She began her career with Irvine Company in 2012, and has been a part of the Office Division since 2016. Jaclyn holds a Bachelor of Science degree in Kinesiology from Arizona State University.
Alison began her career with Irvine Company Office Properties in 2014 on the Campus Office Portfolio. In 2018, she joined the Spectrum High Rise Portfolio, supporting 100 and 300 Spectrum Center Drive.  Alison holds 5 years of experience in office property management and 12 years in customer experience.
Katie started her Irvine Company career in 2018 at Newport Center. She joined the Spectrum Office team in 2019 as the Senior Associate for 100 and 300 Spectrum Center. Her background includes Resort Hospitality and a Bachelor of Arts Degree from California State University, Long Beach.
Jamie began her career with Irvine Company in the Apartment Communities Division in 2018. She then joined the Spectrum High Rise Portfolio in January 2020 as the Associate for 100 & 300 Spectrum Center Drive. Jamie holds a Bachelor of Fine Arts Degree from the University of California, Irvine.
Rick Christensen
Chief Portfolio Engineer
Rick joined the Irvine Spectrum team in October 2011 as Senior Chief Engineer responsible for the oversight of 20/40 Pacifica, 100 and 300 Spectrum Center Drive and Palm Court properties. Prior to joining the  team, he worked as the Senior Chief Engineer for the Newport Center Portfolio for 4 years.
​Keith joined Irvine Company in 2009. Prior to becoming Chief Engineer for 100 & 300 Spectrum Center Drive in October 2017, he served as Lead Engineer, Building Engineer and Maintenance Technician at Newport Center. Keith received his electrical certification from Irvine Valley College.
Salvador Sedano
Building Engineer II
Salvador joined the Irvine Company in 2013 at Pacific Arts Plaza. He continued his career as Building Engineer I at Executive Park and at Irvine Towers. Salvador was promoted in November 2017 to Building Engineer II and assists with the building operations of 100 Spectrum Center Drive.
Greg Fetter
Maintenance Technician
Greg has been in the electrical field since 2010 and has worked in facility maintenance for 3 years. He attended college at Orange Coast College where he studied Computer Science and Basic Electrical Theory. He started at the 100 Spectrum Center team in 2019 as the Maintenance Technician. 
1 / 10

2 / 10

3 / 10

4 / 10

5 / 10

6 / 10

7 / 10

8 / 10

9 / 10

10 / 10
Contacts & Hours
Address
200 Spectrum Center Drive
Suite 1200
Irvine , CA 92618
Email
Hours of operation
Monday - Friday 8:00 a.m. to 5:30 p.m. *Closed weekends and the following major holidays.*
Customers will be notified in advance about any additional days the Customer Resource Center will be closed.
Emergency Numbers
24 Hour Security
(949) 753-1004
Customer Resource Center
(949) 453-2330
Hazardous Material Reporting
(714) 573-6270
Irvine Police Department
(949) 724-7000
Orange County Fire Authority
(714) 573-6000
Poison Control
(800) 222-1222
More About Irvine Company
1 / 3

2 / 3

3 / 3