WorkLife at One America Plaza
Broadway Athletic and Swim Club
Energize mind, body and business at our state-of-the-art fitness center featuring resort-style locker rooms, strength training and a pool.
Sign Up for WorkLife
WorkLife is your single source for updates about food trucks, dining deals, fitness classes, special offers, events and more!



Features & Amenities
Make the most of what's around your workplace community. Irvine Company offers everything you need to live, shop, dine, stay and play.
Upgrade Your Workday
Food & Dining
Don't stress about what to eat during your work day. Check out these tasty on-site food options.
Hidden Craft - Enjoy locally crafted brews and a food menu with a wide range of flavors.
Giovanni's Trattoria - Order your favorite pizza, pasta, salad and more!
Grab & Go Subs - Serving subs, salads and coffee made with only the finest ingredients.
Pressed Juicery - Cold-pressed juice, plant-based soft serve and healthy snacks.
Starbucks - Coffee, smoothies and a variety of tasty treats.
Workplace Amenities
Activate the body. Ignite the mind. Integrate an active lifestyle into your workday with convenient amenities.
Broadway Athletic and Swim Club - Enjoy preferred rates at this luxurious fitness center with cardio and strength training equipment, sauna, steam rooms and pool - Located at 501 West Broadway.
Meetings and Events - Host your next team meeting or training in the state-of-the-art conference center, featuring a 90-seat auditorium with full audio/visual capabilities and a 12-person boardroom facility equipped with video conferencing - Located at on the 2nd floor.
Workplace Conveniences
Enjoy these always-available on-site and nearby perks.
Jerry's Detailing - Full-service detailing and hand car washes in the parking structure on the P2 level.
US Bank & ATM - Located in the main lobby. Courtesy Airport Shuttle -
Complimentary airport shuttle available for travel to the San Diego International Airport.
EV Charging Stations - ChargePoint Level 2 stations - Located in the parking structure on the P2 level.
Trolley & Amtrak Station - Simplify commuting with a prime location near San Diego's main trolley station and hop on Amtrak at Santa Fe Depot.
Site Map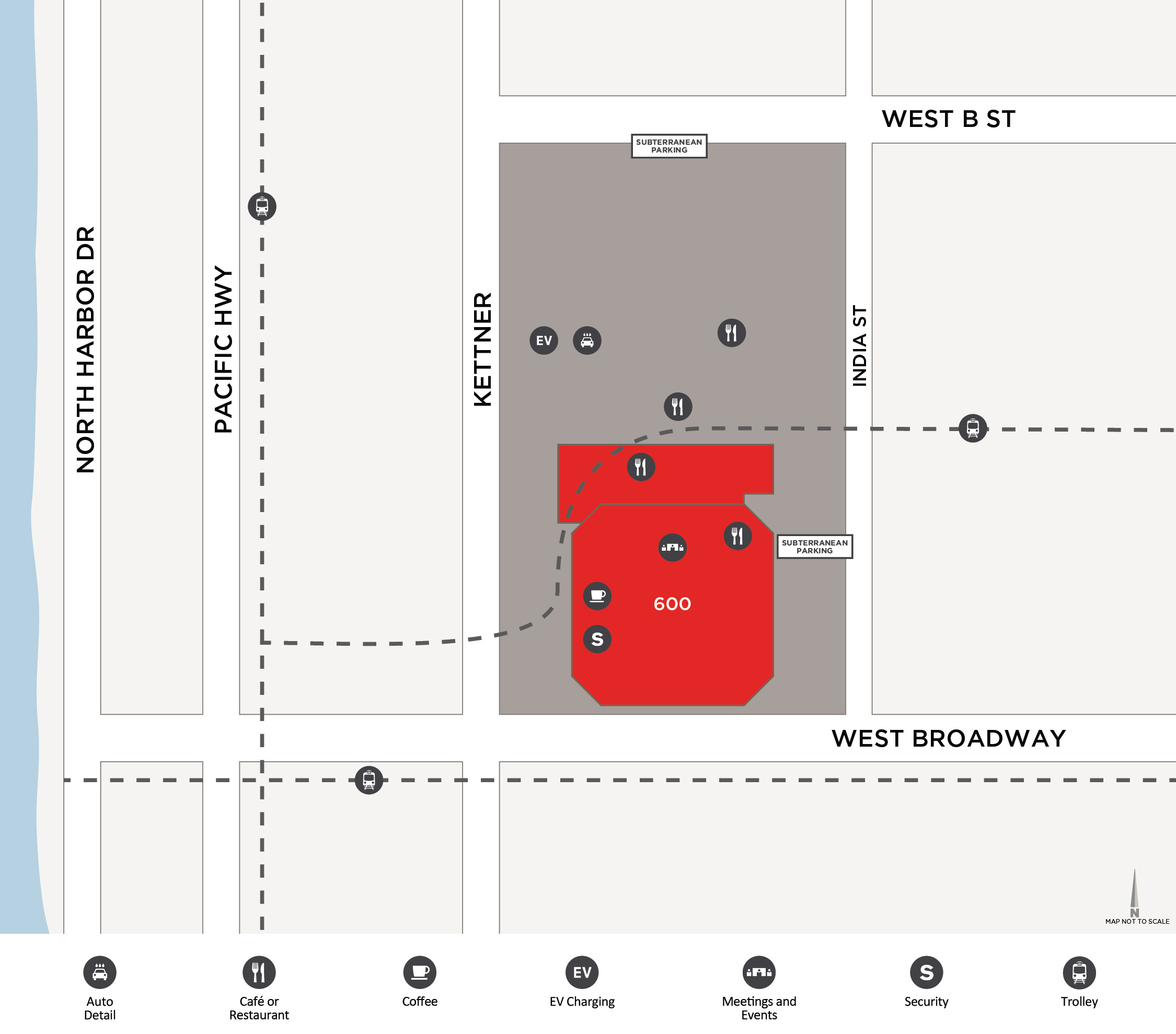 Customer Resources
Customer Resource Center:  (619) 544-0600
Meet the Team
Oversee projects at 101 W Broadway, 225 Broadway, 501 W Broadway and 600 W Broadway.
As Senior Manager, Traci is responsible for the day-to-day operations of 501 West Broadway & One America Plaza. Traci joined Irvine Company in 2011 and her experience includes managing several Class A office properties in downtown San Diego and Chicago.
Being a seasoned professional with over 20 years in the work force and as an educator, Vivian joined the Irvine Company supporting the Downtown and Mission Valley Portfolio and was recently promoted to Manager of Operations.
Kristin has been with the Irvine Company since 2016. Beginning in September 2019, Kristin transitioned from the Irvine Company Apartments to the Office Properties as an Associate for La Jolla Gateway in September 2019. She has recently been promoted to Assistant Manager, Operations. 
Precious is a native San Diegan who has been with the Irvine Company for 7 years in our Apartment Communities Division. We're excited to have Precious share her prowess in adaptability and to join our team's journey to provide world class service to our customers at One America Plaza and 501 West Broadway.
Ben has been with the Irvine Company for over 6 years in multiple divisions of our business and brings 10 years experience as a property manager previously within the Self Storage Industry. His experience in the real estate industry along with his organizational and problem-solving skills will make him a great asset to the One America Plaza and 501 West Broadway team and our customers. 
Mike oversees the building Engineers and building projects for all of the downtown properties. Mike has been with Irvine Company since January 1999 and is a Graduate from SDCC with an AS degree in HVAC.  He is also a motorcycle enthusiast and amateur photographer.
Nathan is responsible for facility operation for One America Plaza and 501 West Broadway has worked at several Irvine properties throughout San Diego.
Wells Fargo Plaza's Lead Engineer, Keith Thiltgen, has over 22 years experience in engineering. He has worked in high-rise and mid-rise buildings, retail and medical properties all over San Diego. Keith has been a part of the Wells Fargo Plaza team since January 2015.
Jimmy is responsible for a variety of tasks from addressing comfort issues in customer suites to completing preventative maintenance on the building's operating systems.
Ed Cruz joined Irvine Company Office Properties in 2003. He holds EPA and HVAC certifications and is currently working towards a BOC certification. Prior to working at One America Plaza, Ed worked as an engineer at Symphony Towers.
Evy Higuera
Security Director
Evy has been a Security Professional at multiple properties within the Irvine Company Portfolio and has recently been promoted to Security Director at both 501 West Broadway and One America Plaza Buildings.
Ricardo Espinoza has 9 years experience in sales and 6 years' experience in building maintenance services for ABM Industries. He oversees janitorial services at both 501 West Broadway and One America Plaza buildings.
Stephanie has oversight of the parking for One America Plaza. Stephanie has 7 years of parking management experience.
1 / 14

2 / 14

3 / 14

4 / 14

5 / 14

6 / 14

7 / 14

8 / 14

9 / 14

10 / 14

11 / 14

12 / 14

13 / 14

14 / 14
Contacts & Hours
Address
600 West Broadway
Suite 230
San Diego, CA 92101
Email
Hours of operation
Monday - Friday 8:00 am - 5:00 pm.  *Closed weekends and the following major holidays.*
Customers will be notified in advance about any additional days the Customer Resource Center will be closed.
Emergency Numbers
California Poison Action Line
(800) 222-1222
Customer Resource Center
(619) 544-0600
Hazardous Material Reporting
(619) 533-4400
San Diego Fire Department
(619) 533-4300
San Diego Police Department (non-emergency)
(619) 531-2000
Security Console
(619) 685-8340
Thank you for contacting us! Please expect to hear from our team.