Santa Clara Square® Offices
Get More from Irvine Company

Make the most of what's around your workplace community. Irvine Company offers everything you need to live, shop, dine, stay and play.
Upgrade Your Workday
Onsite Dining
Don't stress about what to eat during your work day. Check out these tasty on-site and nearby food options.
Health & Wellness
Integrate a fit life into your workday. These simple programs can get you moving.
KINETIC® East - State-of-the-art fitness center located at 2515 Augustine Drive for 2400/2500 block customers. Use FLEX to view classes, book training and more. Open 5:00AM - 10:00PM Mon - Fri
KINETIC® West - State-of-the-art fitness center located at 2755 Augustine Drive for 2600/2700 block customers. Use FLEX to view classes, book training and more. Open 5:00AM - 10:00PM Mon - Fri
Workplace Conveniences
Enjoy these always-available on-site perks.
 
The Commons - Come connect, collaborate and relax in your WiFi-enabled outdoor space
EV Charging Stations - Sign up with ChargePoint to begin charging your vehicle
Paragon Mobile Detailing - Have your car washed and detailed while you're at the office. Onsite the 1st, 3rd and 5th Wednesday of the month, at 2595 August Drive parking garage 1st floor for vehicle check-in
CalTrain Shuttle - Free shuttle program! The Bowers/Walsh Caltrain shuttle picks up inside the loading zone at 2515 Augustine Drive
Book Mobile - Check out library books and movies onsite every Wednesday from 11:30am - 1:30pm
TECH-Cleaners - There's one less errand you have to run with TECH-Cleaners:  have your dry cleaning picked-up and dropped off directly from your office
Conference Center - A versatile space for meetings, trainings and events, located at 2625 Augustine Drive. Explore other indoor and outdoor meeting spaces throughout our portfolio here.
Map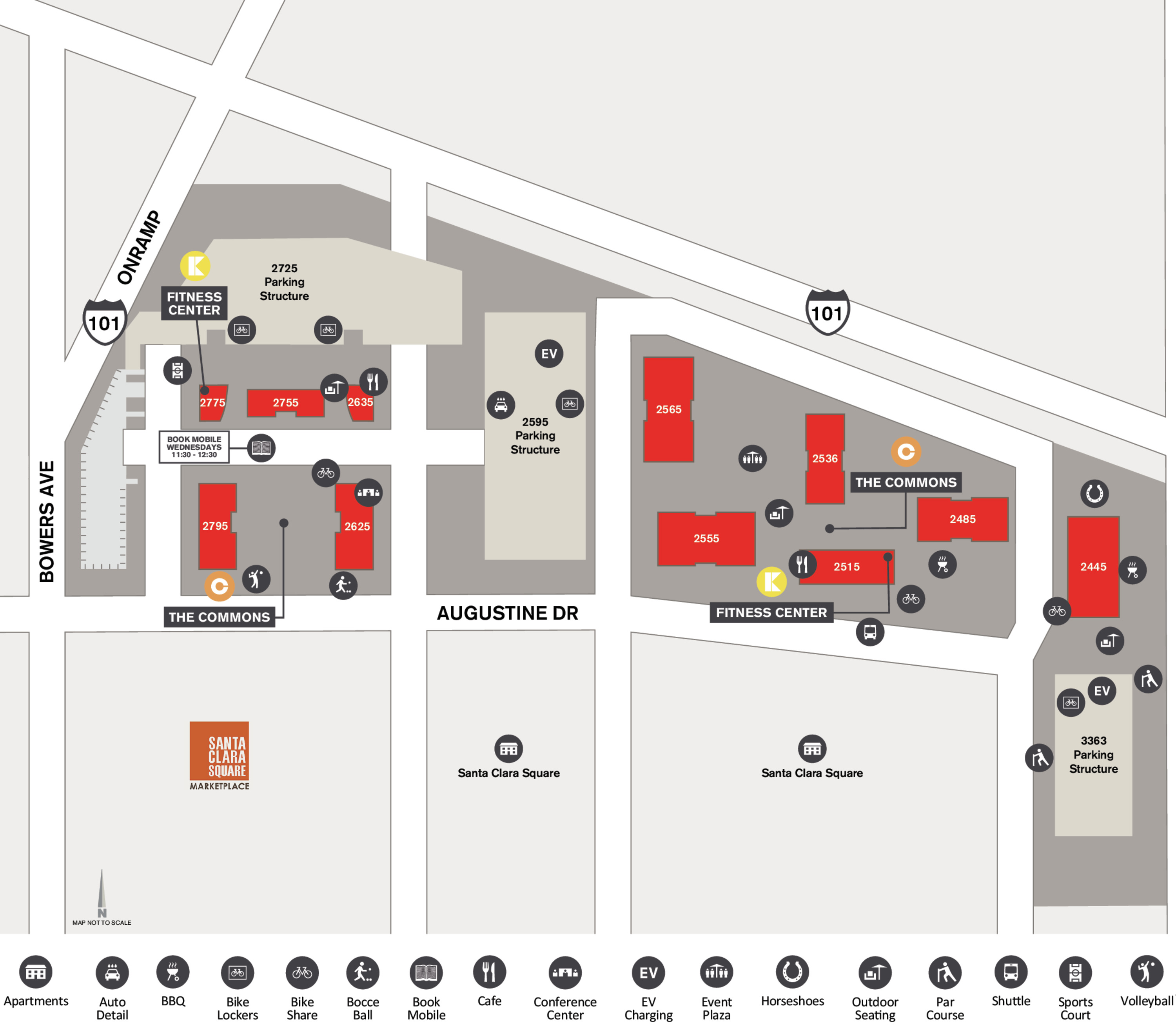 More from Irvine Company
Live
Irvine Company Office customers receive $0 security deposit and two waived application fees.*
Short-term, furnished apartments are also available.  
Contact Our Corporate Housing Team
Shop & Dine
Retail Therapy offers instant access to hundreds of discounts and incredible deals from restaurants, retailers, spas, salons, and more throughout Orange County.
$0 Security Deposit and Waived Application Fee Offer valid only on select vacant-ready units; subject to availability. Offer valid only for current customers of Irvine Company Office Properties. Offer subject to satisfactory credit (which requires established U.S. credit or trade lines) and application, applicant's enrollment in recurring online rent payment in the resident website, and acceptable proof of eligibility (pay stub, security badge or verifying letter on HR letterhead). Applicants with no credit or tradelines must pay a $300 deposit; other terms and conditions apply. Reduced security deposit of $0 or $300 (regularly between $600 and $800) and waived application fees valid for (i) new applicants only, (ii) approved, signed leases, and (iii) applicant's move in by August 31, 2020. Limit of 2 waived application fees per apartment unit. Offer can be combined with other offers; pet deposit not included. This offer not valid to Corporate Direct Applicants. This offer may be changed or cancelled at any time at the sole discretion of The Irvine Company Apartment Communities. Please contact the Leasing Center for complete offer details and floor plan availability. Irvine Management Company, a licensed real estate broker DRE LIC. #02041810
Contact Us
Customer Resource Center: (408) 970-2500
Meet the Team
As Senior Manager, Operations, Kandace is responsible for overseeing the day to day operations at Santa Clara Square & Coronado. Kandace joined Irvine Company in July 2010 in the San Diego Market.  She graduated from Chaminade University in Honolulu, Hawaii with a B.A. in Psychology.  
Andrew joined Irvine Company in January 2021 and has worked at Santa Clara Square and Coronado Park properties. Andrew provides exceptional customer service with his open communication. He graduated from California State University, Northridge with a BA in Communications.
Camille is a Bay Area native and joined Irvine Company in August 2021. She is responsible for supporting in the day to day operations at Santa Clara Square and Coronado Park at the Square. Camille brings 8 years of experience in customer service. She graduated from California State University, Sacramento with a B.A. in Communications. 
1 / 3

2 / 3

3 / 3
Contacts & Hours
Address
2445 Augustine Drive
Suite 101
Santa Clara, CA 95054
Email
Hours of operation
Monday - Friday 8:00 a.m. to 5:00 p.m. *Closed weekends and the following major holidays.*
Customers will be notified in advance about any additional days the Customer Resource Center will be closed.
Emergency Numbers
24 Hour Customer Resource Center
(408) 330-0100
More About Irvine Company
1 / 3

2 / 3

3 / 3