at Newport Center Drive

KINETIC Fitness

Learn more about Newport Center's state-of-the-art full service fitness center offering daily group fitness classes and on site healthcare at the St. Joseph Hoag Health Wellness Corner.
Sign up for WorkLife
WorkLife is your single source for updates about dining deals, fitness classes, special offers, events, and more! 
The Commons
Connect, collaborate and relax in dynamic WiFi enabled outdoor spaces located at 610 Newport Drive.
Upgrade Your Workday
Onsite Dining
Don't stress about what to eat during your work day. Check out these tasty on-site food options.
La Petite Cafe - Located at 660 Newport Center Drive  


Gourmet Food Trucks - A variety of food trucks every Friday located at The Commons at 610 Newport Center Drive


Dining Express - Get lunch delivered right to your office

Health & Wellness
Integrate a fit life into your workday. These simple programs can get you moving.
 
KINETIC - Located at 600 Newport Center


St. Joseph Hoag Health Wellness Corner - Located at 600 Newport Center
Workplace Conveniences
Enjoy these always-available on-site perks.

 
Map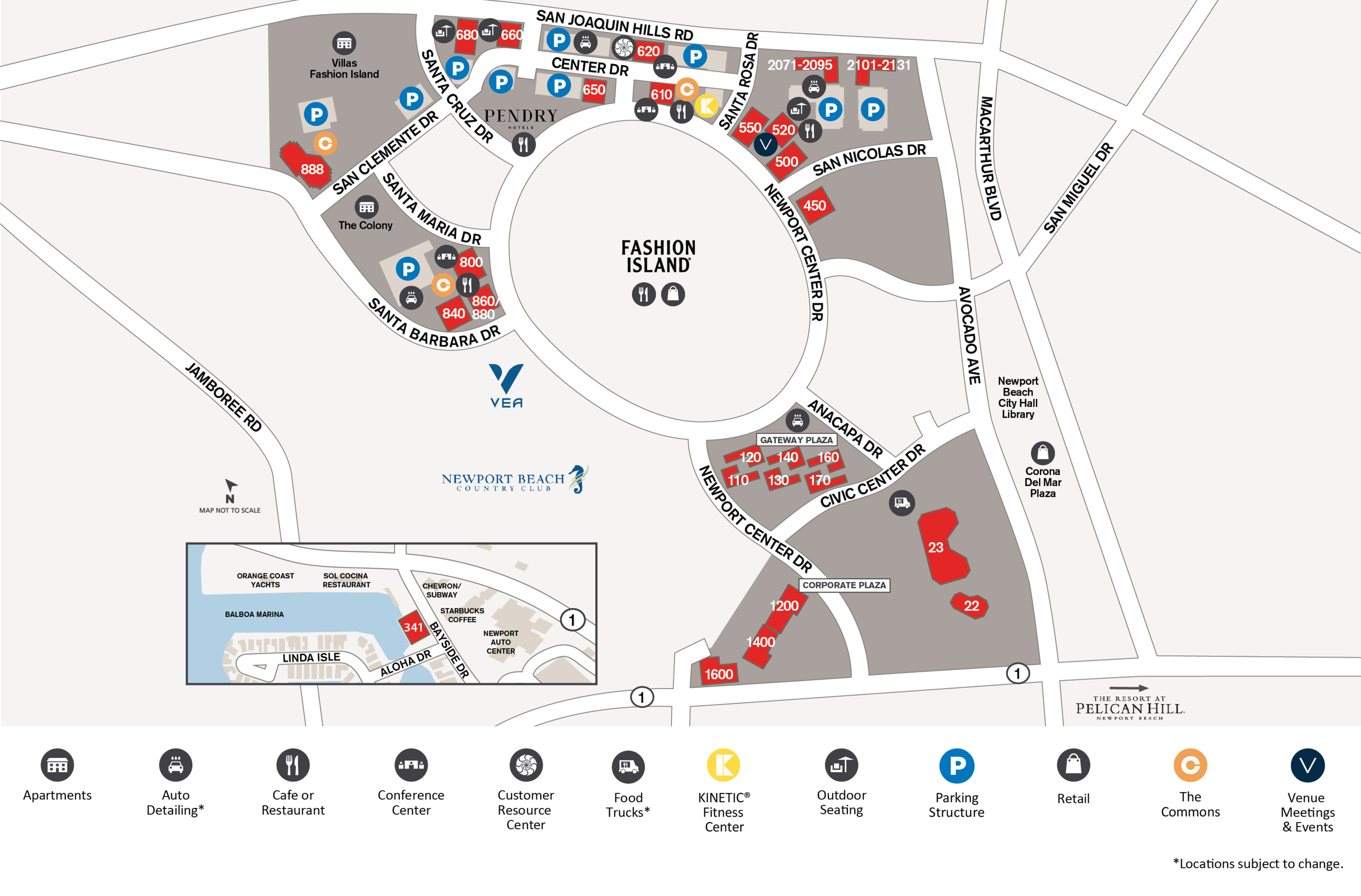 Contact Us
Customer Resource Center: (949) 729-1450
Meet the Team
Chris Gash
Senior Director
, Portfolio Operations
Chris is responsible for overseeing operations of Newport Center. He has nineteen years of commercial real estate experience. Prior to joining Irvine Company Office Properties, Chris spent five years as a Property Manager at Insignia/ESG.  He is a graduate of San Diego State University.
Bryan joined the Irvine Company in 2010 as part of the Irvine Spectrum team. He holds a California Real Estate license, and received a B.A. degree in Political Science from the University of California at Riverside. As Senior Manager, Operations, he currently oversees the 600 Block of Newport Center.
Natalie joined the Irvine Company in November of 2015. She joined the 620 Newport Center team in February 2019. Natalie graduated from Cal State Long Beach in 2013 with a degree in Communication Studies.
Ashley originally started her career as part of the Irvine Spectrum team. She received her B.A. degree in Communications/Pubic Relations from California State University, Fullerton. Ashley was born and raised in Orange County and currently resides in Huntington Beach.
Yvette joined the Irvine Company in 2018 after moving to Orange County from San Diego. She received her Bachelor of Science degree in Hospitality from Cal Poly, San Luis Obispo.
Tony Furnari
Director
, Engineering
Tony was previously the Senior Chief for the Irvine Spectrum portfolio, but originally started his career at Newport Center. Tony has been with the company for 19 years and we are excited to have him as our Portfolio Senior Chief Engineer.
Hector Armenta
Senior Chief Engineer
Hector began with Irvine Company in 1990. He moved to Newport Center In 2014 when he was promoted to Senior Chief Engineer overseeing the 600 block.  He holds various certificates in HVAC, EMS, Chiller, Electrical, Central Plants,  Rooftop Units and fire life safety.
William Paxton
Building Engineer II
Bill joined the Irvine Company in 2006 as a part of the Newport Center team. He received his HVAC certification from Orange Coast College, and also has a Universal 608. Bill was born and raised in Orange County and continues to call it his home.
Paul Ruiz
Maintenance Technician
, Operations
1 / 9

2 / 9

3 / 9

4 / 9

5 / 9

6 / 9

7 / 9

8 / 9

9 / 9
Contacts & Hours
Address
620 Newport Center Drive
Suite 150
Newport Beach, CA 92660
Email
Hours of operation
Monday - Friday 8:00 a.m. to 5:30 p.m. *Closed weekends and the following major holidays.*
Customers will be notified in advance about any additional days the Customer Resource Center will be closed.
Emergency Numbers
24 Hour Security
(949) 729-7272
Customer Resource Center
(949) 729-1450
Fire Department
(949) 644-3120
Hazardous Material Reporting
(714) 834-4000
Hoag Hospital
(949) 761-4624
Poison Control
(800) 222-1222
Police Department
(949) 644-3681
More About Irvine Company
1 / 3

2 / 3

3 / 3