WorkLife
at Newport Center Drive
KINETIC® Fitness

Learn more about Newport Center's state-of-the-art full service fitness center offering daily group fitness classes.
Sign up for WorkLife

WorkLife is your single source for updates about dining deals, fitness classes, special offers, events, and more! 


The Commons
Connect, collaborate and relax in dynamic WiFi enabled outdoor spaces located at 800 Newport Drive.
Upgrade Your Workday
On-site Dining
Don't stress about what to eat during your work day. Check out these tasty on-site food options.
Health & Wellness
Integrate a fit life into your workday. These simple programs can get you moving.


KINETIC® – Located at 600 Newport Center
Workplace Conveniences
Enjoy these always-available on-site perks.
The Commons - Wifi enabled outdoor space at 800 Newport Center Drive


EV Charging Station - Every day of the week at 800 and 888 San Clemente

Conference Centers - Flexible seating arrangements and full A/V and WiFi capabilities are available nearby. Explore our indoor and outdoor meeting spaces throughout our portfolio here.
Map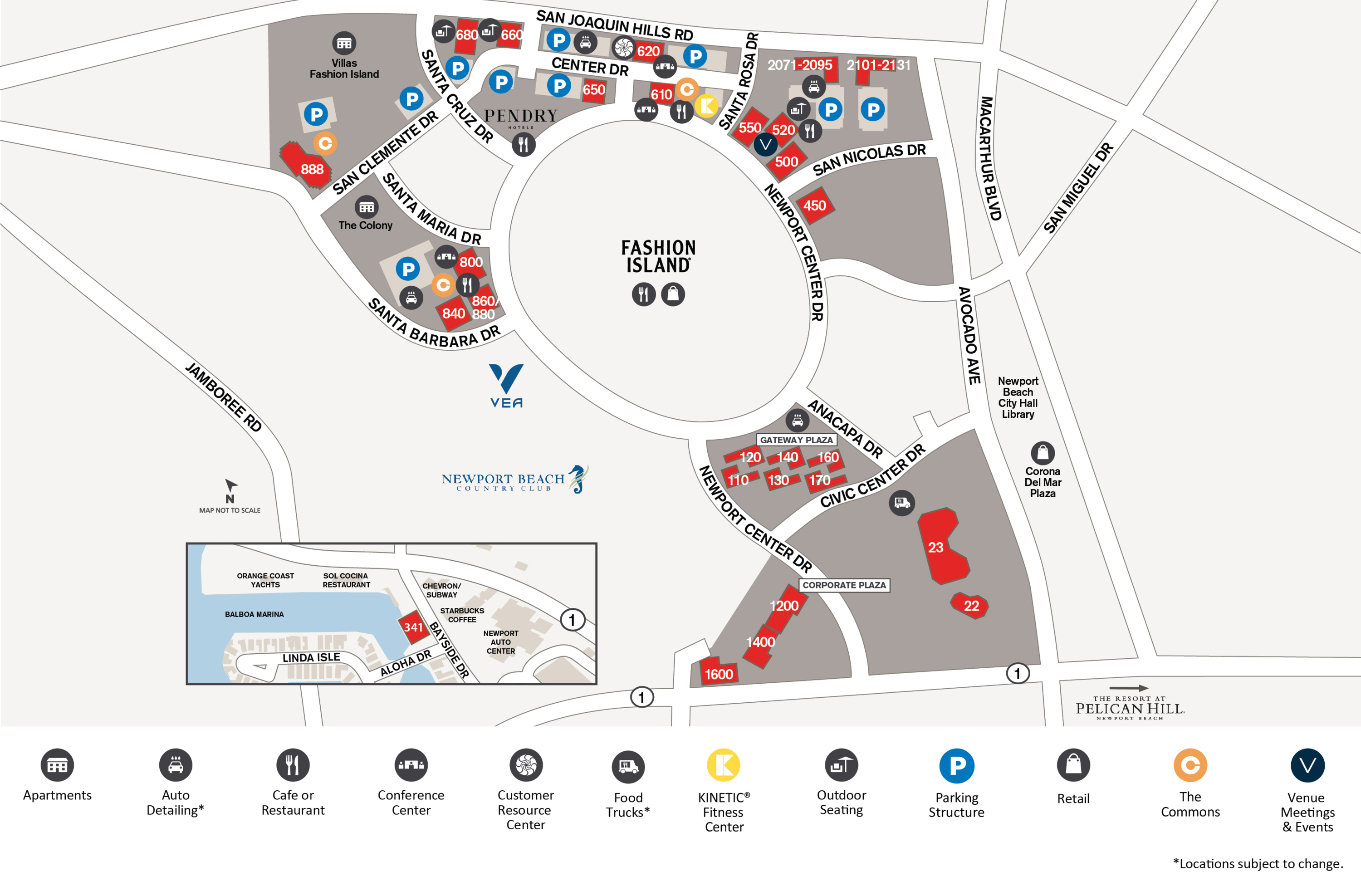 Contact Us
Customer Resource Center: (949) 729-1450
Meet the Team
Gregg grew up in Northern California and graduated from Cal Poly San Luis Obispo with a Business degree in 2001. Gregg has been with Irvine Company since 2003 and has managed apartments, low-rise, and high-rise office properties.  
Lindsey joined Irvine Company in 2014. She has worked on both Office high-rise and Campus Office low-rise portfolios during her tenure. Lindsey grew up in Chicago and holds a degree in HDFS from Illinois State University and a California Real Estate Salesperson License.
Rebecca joined Irvine Company Office Properties in 2015 and has overseen properties including Jamboree Center, Newport Center, Spectrum Office High Rise and Discovery Park. Rebecca can assist with lease questions, exterior modifications, landlord consents and any issues with the leased premise.
Dominique joined the Irvine Company in 2019 in our Resorts Division, fostering strong working relationships and gaining excellent customer service skills which she will bring with her to the Office Division as she supports multiple portfolios.
Sammy joined the Irvine Company in 2022 and is a graduate of California State University, Fullerton.
Drew started his career with the Irvine Company in 2010 as a Maintenance Technician. Throughout his time as a Building Engineer he supported Irvine Towers and MacArthur Court. He was promoted to a Chief Engineer at Spectrum Center and in 2018 became the Chief Engineer for Newport Center South. 
Frank Peralta
Lead Engineer
Frank has been employed with the Irvine Company for 8 years. He joined the Newport Center South Engineering Team in October of 2017 as a Lead Engineer to support the maintenance and building engineers as well as to work on special projects throughout Newport Center South. 
Arnold Herrera
Building Engineer II
Arnold joined the Irvine Company in 2012 as Maintenance Tech working at Irvine Towers. He arrived at Newport Center in December of 2015 as a Building Engineer and currently works for on the Corporate Plaza and Gateway Plaza Properties. Arnold is a Marine Corps veteran who served from 2000 to 2004.
1 / 8

2 / 8

3 / 8

4 / 8

5 / 8

6 / 8

7 / 8

8 / 8
Contacts & Hours
Address
620 Newport Center Drive
Suite 150
Newport Beach, CA 92660
Email
Hours of operation
Monday - Friday 8:00 a.m. to 5:30 p.m. *Closed weekends and the following major holidays.*
Customers will be notified in advance about any additional days the Customer Resource Center will be closed.
Emergency Numbers
24 Hour Security
(949) 734-6830
Customer Resource Center
(949) 729-1450
Hazardous Material Reporting
(714) 573-6270
Hoag Hospital
(949) 764-4624
Newport Beach Fire Department
(949) 644-3120
Newport Beach Police Department
(949) 644-3681
Poison Control
(800) 222-1222