at Newport Center Drive

KINETIC™ Fitness

Learn more about Newport Center's state-of-the-art full service fitness center offering daily group fitness classes and on site healthcare at the St. Joseph Hoag Health Wellness Corner.
Sign up for WorkLife
WorkLife is your single source for updates about dining deals, fitness classes, special offers, events, and more! 

Get More from Irvine Company

Make the most of what's around your workplace community. Irvine Company offers everything you need to live, shop, dine, stay and play.

Upgrade Your Workday
Onsite Dining
Don't stress about what to eat during your work day. Check out these tasty on-site food options.
Local onsite cafes at 520, 660 and 800 Newport Center Drive


Fashion Island - Quick bites and dine-in experiences just minutes away


Gourmet Food Trucks - Weekly food truck on Thursdays located at 23 Corporate Plaza Drive


Dining Express powered by GrubHub - Free delivery from nearby restaurants
Health & Wellness
Integrate a fit life into your workday. These simple programs can get you moving.
 
KINETIC™ - Located at 600 Newport Center Drive


St. Joseph Hoag Health Wellness Corner - Located at 600 Newport Center Drive
Workplace Conveniences
Enjoy these always-available on-site perks.



Map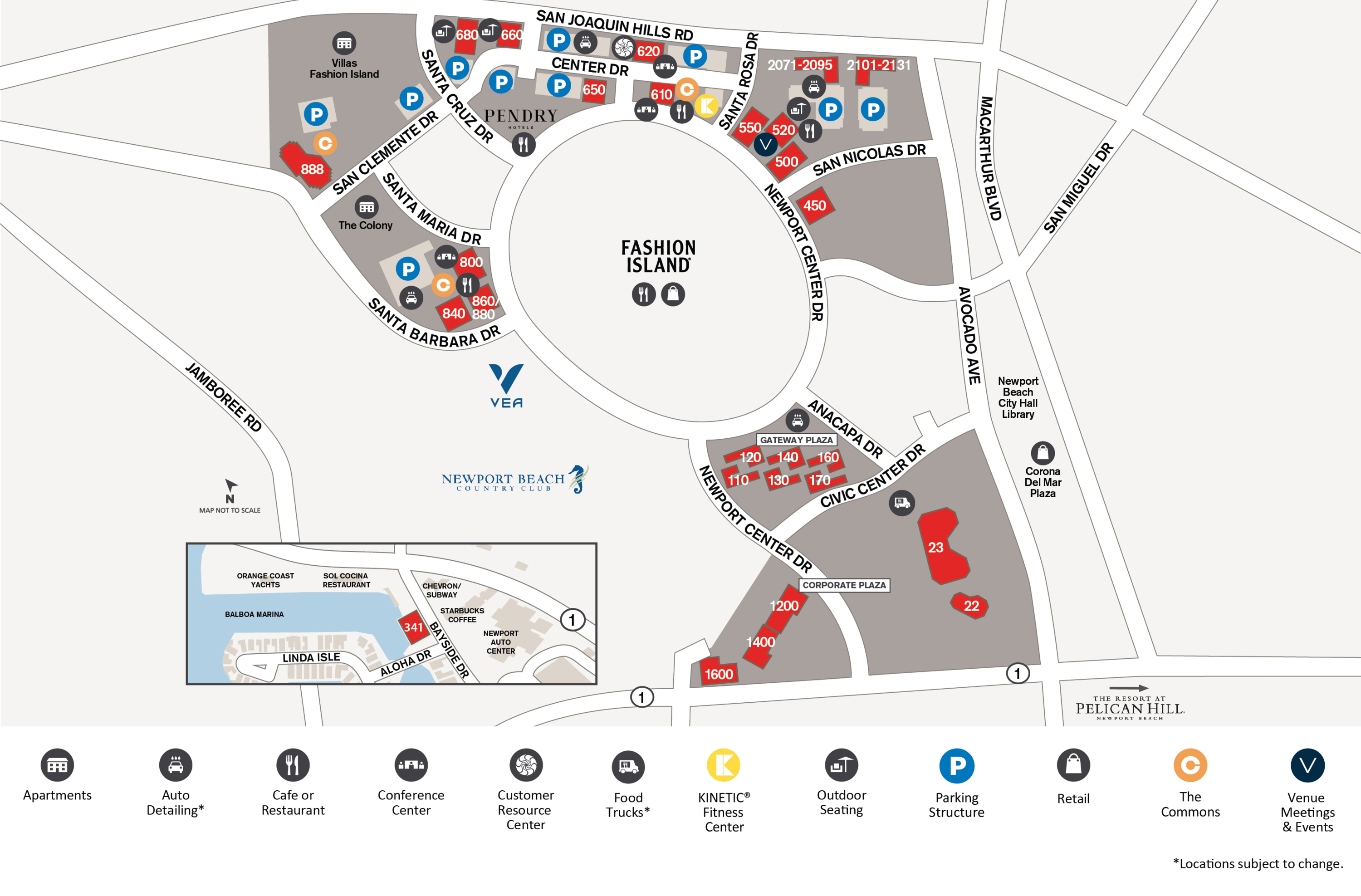 More from Irvine Company
Live
Irvine Company Office customers receive $0 security deposit and two waived application fees.*
Short-term, furnished apartments are also available.  
Shop & Dine
Retail Therapy offers instant access to hundreds of discounts and incredible deals from restaurants, retailers, spas, salons, and more throughout Orange County.
Stay & Play
Whether it's a memorable round of golf at Pelican Hill or Oak Creek, a thrilling boating adventure from one of our marinas, or the perfect visit to one of our hotels or resorts — the Coastal Collection from Irvine Company is here to provide you with a great experience.
$0 Security Deposit and Waived Application Fee Offer valid only on select vacant-ready units; subject to availability. Offer valid only for current customers of Irvine Company Office Properties. Offer subject to satisfactory credit (which requires established U.S. credit or trade lines) and application, applicant's enrollment in recurring online rent payment in the resident website, and acceptable proof of eligibility (pay stub, security badge or verifying letter on HR letterhead). Applicants with no credit or tradelines must pay a $300 deposit; other terms and conditions apply. Reduced security deposit of $0 or $300 (regularly between $600 and $800) and waived application fees valid for (i) new applicants only, (ii) approved, signed leases, and (iii) applicant's move in by August 31, 2021. Limit of 2 waived application fees per apartment unit. Offer can be combined with other offers; pet deposit not included. This offer not valid to Corporate Direct Applicants. This offer may be changed or cancelled at any time at the sole discretion of The Irvine Company Apartment Communities. Please contact the Leasing Center for complete offer details and floor plan availability. Irvine Management Company, a licensed real estate broker DRE LIC. #02041810
Contact Us
Customer Resource Center: (949) 729-1450
Meet the Team
Chris Gash
Senior Director
, Portfolio Operations
Chris is responsible for overseeing operations of Newport Center. He has nineteen years of commercial real estate experience. Prior to joining Irvine Company Office Properties, Chris spent five years as a Property Manager at Insignia/ESG.  He is a graduate of San Diego State University.
Holly has enjoyed working on the Irvine Company Office Properties Team since 2007. She currently oversees the Newport Center South Portfolio consisting of Pacific Financial Plaza, 888 San Clemente, Corporate Plaza, Gateway Plaza and 341 Bayside. Holly graduated from Azusa Pacific University with a degree in business. 
Morgan was born in Orange County & earned her Bachelor Degree from the University of California, Irvine. Her Real Estate career began at Equity Office & transitioned to the Irvine Company in 2018.
Courtney joined the Irvine Company in 2016 as part of the Apartment Communities division as a Leasing Administrator. She joined Irvine Company Office Properties in 2017 and now supports the low rise properties at Newport Center. 
Tony Furnari
Director
, Engineering
Tony was previously the Senior Chief for the Irvine Spectrum portfolio, but originally started his career at Newport Center. Tony has been with the company for 19 years and we are excited to have him as our Portfolio Senior Chief Engineer.
Frank Peralta
Lead Engineer
Frank has been employed with the Irvine Company for 8 years. He joined the Newport Center South Engineering Team in October of 2017 as a Lead Engineer to support the maintenance and building engineers as well as to work on special projects throughout Newport Center South. 
Drew Carroll
Chief Engineer
Drew started his career with the Irvine Company in 2010 as a Maintenance Technician. Throughout his time as a Building Engineer he supported Irvine Towers and MacArthur Court. He was promoted to a Chief Engineer at Spectrum Center and in 2018 became the Chief Engineer for Newport Center South. 
Manuel Palacios
Building Engineer I
Manny began his career as a Day Porter for Pacific Financial Plaza. In 2011, he  joined Pacific Financial Plaza's Engineering Team in December 2011. As the Maintenance Technician, he responds to daily maintenance requests and assists on larger projects for the property.
1 / 8

2 / 8

3 / 8

4 / 8

5 / 8

6 / 8

7 / 8

8 / 8
Contacts & Hours
Address
620 Newport Center Drive
Suite 150
Newport Beach, CA 92660
Email
Hours of operation
Monday - Friday 8:00 a.m. to 5:30 p.m. *Closed weekends and the following major holidays.*
Customers will be notified in advance about any additional days the Customer Resource Center will be closed.
Emergency Numbers
24 Hour Security
(949) 729-7272
Customer Resource Center
(949) 729-1450
Fire Department
(949) 644-3120
Hazardous Material Reporting
(714) 834-4000
Hoag Hospital
(949) 761-4624
Poison Control
(800) 222-1222
Police Department
(949) 644-3681
More About Irvine Company
1 / 3

2 / 3

3 / 3