WorkLife at San Joaquin Wellness Center 
KINETIC® Fitness 
Learn more about Newport Center's state-of-the-art full service fitness center offering daily group fitness classes and on site healthcare at ExpressCare.
Sign Up for WorkLife

WorkLife emails bring updates about dining deals, special offers, events and more directly to your inbox! Sign up to receive emails directly to your inbox.


Features & Amenities
Integrate work and life with on-site dining, complimentary downtown shuttle and airport shuttle, EV charging stations and more.
Upgrade Your Workday
Workday Dining
Don't stress about what to eat during your work day. Check out these tasty on-site and nearby food options.
520 Marketplace - Offering a variety of fresh, high-quality menu options for breakfast and lunch daily
Gourmet Food Trucks - Enjoy a variety of food trucks. Located at 660 Newport Center Drive on Tuesdays and Wednesdays and at 610 Newport Center Drive on Thursdays
Health & Wellness
Integrate a fit life into your workday. These simple programs can get you moving.
KINETIC® - Located at 600 Newport Center
ExpressCare - Located at 600 Newport Center
Workplace Conveniences
The Commons - Wifi enabled outdoor space at 610 Newport Center
EV Charging Stations - Located at 610 Newport Center Drive as well as the 545 San Nicolas and 555 San Nicolas parking structures
Auto Detail - Vehicle detailing services available in the basement of the 545 San Nicolas parking structure
Fashion Island - Close access to a luxury shopping destination 
Host out-of-town guests in nearby resort-style accommodations, including The Resort at Pelican Hill
Conference Center - Flexible seating for up to 45 people with full A/V and WiFi capabilities, located at 520 Newport Center Drive. Explore other indoor and outdoor meeting spaces throughout our portfolio here.
Site Map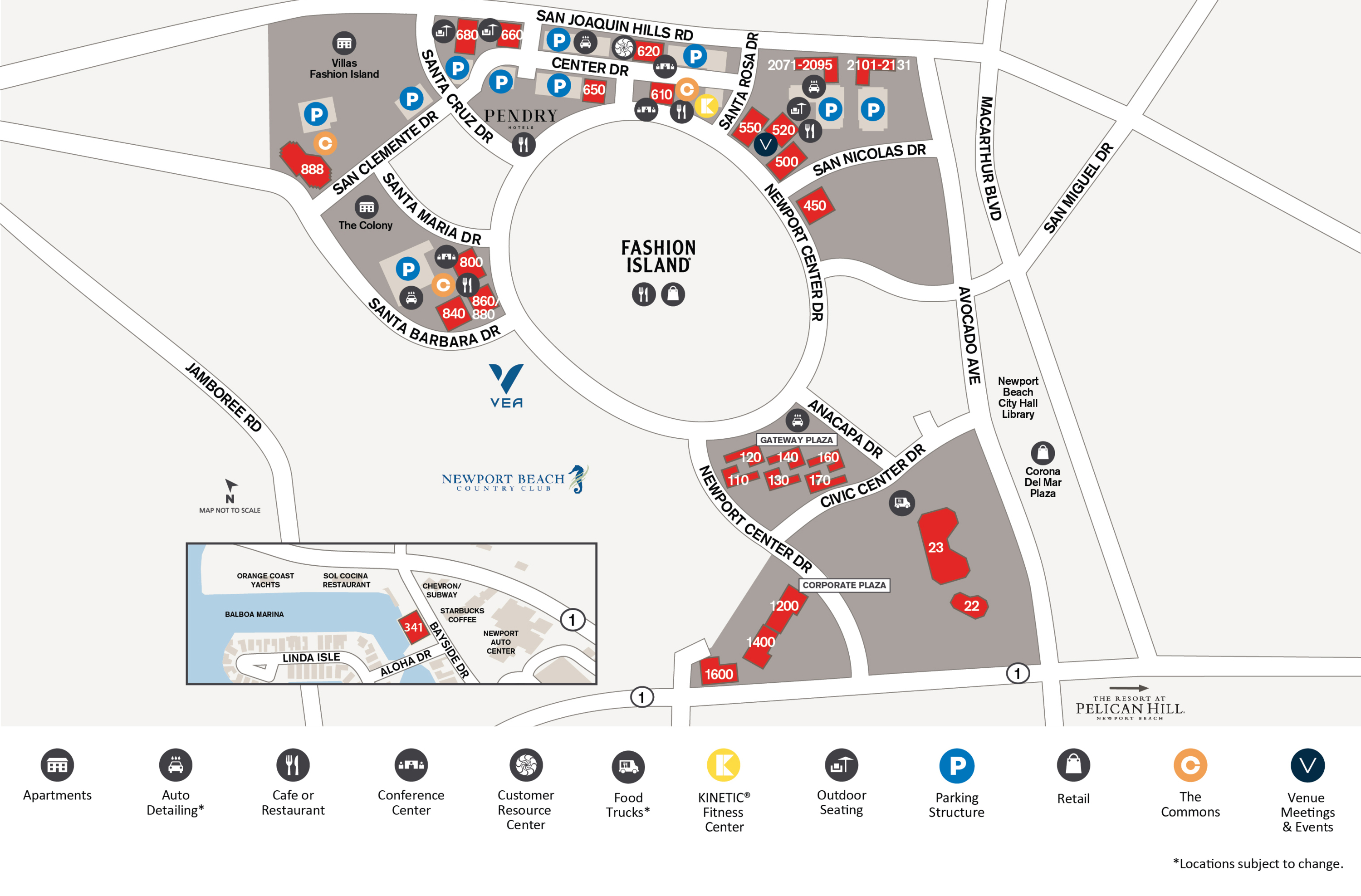 More from Irvine Company
Live
Irvine Company Office customers receive $0 security deposit and two waived application fees.*
Interested in corporate housing?
Contact Our Corporate Housing Team
Shop & Dine
Retail Therapy offers instant access to hundreds of discounts and incredible deals from restaurants, retailers, spas, salons, and more throughout Orange County.
Stay & Play
Whether it's a memorable round of golf at Pelican Hill or Oak Creek, a thrilling boating adventure from one of our marinas, or the perfect visit to one of our hotels or resorts — the Coastal Collection from Irvine Company is here to provide you with a great experience.
Customer Resources
Customer Resource Center:  (949) 729-1450
Meet the Team
Gregg grew up in Northern California and graduated from Cal Poly San Luis Obispo with a Business degree in 2001. Gregg has been with Irvine Company since 2003 and has managed apartments, low-rise, and high-rise office properties.  
Abigail began her career with the Irvine Company in 2011. She previously worked in the Apartments Division and then joined Irvine Company Office Properties in 2013. Abigail is now the Manager of 520 and 550 Newport Center. Abigail is a graduate of Texas A&M University.
Kailyn began her Irvine Company career at Irvine Company Apartment Communities in 2013 and then joined Office Properties in 2015 as the Associate at MacArthur Court. Kailyn was born and raised in Grand Rapids, Michigan and moved to California in 2013. 
Robina started her career with the Irvine Company in 2019 and joins us from Spectrum Office. Robina will be supporting 450, 500, 520 NCD and San Joaquin Wellness Center.
Robbie joined the Irvine Company in 2021. He received his Bachelor of Science degree in Public Health from Syracuse University.
Anthony began his career with the Irvine Company in 2008 at Irvine Towers. He is now the Senior Chief Engineer of 450 Newport Center and the entire 500 Block.
Joe has been with the Irvine Company since 2008 and has worked at multiple properties. He specializes in HVAC and electrical systems. On his time off, he enjoys spending time with his family and being outdoors.
Jesse Machado is Maintenance Technician for the 500 block of Newport Center and has been with the company since July of 2023.
1 / 8

2 / 8

3 / 8

4 / 8

5 / 8

6 / 8

7 / 8

8 / 8
Contacts & Hours
Address
620 Newport Center Drive
Suite 150
Newport Beach, CA 92660
Email
Hours of operation
Monday - Friday 8:00 a.m. to 5:30 p.m. *Closed weekends and the following major holidays.*
Customers will be notified in advance about any additional days the Customer Resource Center will be closed.
Emergency Numbers
24 Hour Security
(949) 729-7272
Customer Resource Center
(949) 729-1450
Fire Department
(949) 644-3120
Hazardous Material Reporting
(714) 834-4000
Hoag Hospital
(949) 761-4624
Poison Control
(800) 222-1222
Police Department
(949) 644-3681