Virtual touring is an essential part of a broker's toolkit. Our digital tools on IrvineCompanyOffice.com deliver a seamless experience, helping you close more deals and ensuring you always have the latest suite availability, floor plans, photos and more.
Here's how to help your clients secure a new workspace from anywhere:
Real-Time Updates
Availability on IrvineCompanyOffice.com is updated daily, ensuring the latest information. We are actively adding new virtual touring resources, including photography, videos and virtual walkthroughs.
Detailed Suite Features
Many availabilities feature detailed resources, including videos, photos, floor plans, downloadable suite galleries, and suite-specific features. Find this information under the "Availabilities" section of each workplace community page.
Brochures and Maps
Each workplace community page includes workplace brochures, amenity details, maps, market information and more. These materials are print-ready with public URLs so you can easily share with clients. Find them under the "Brochures" section of each workplace community page.
There are also many resources available on our Come Back With Confidence website, including this Return to the Workplace guide that you can share with clients. 
Your Leasing Contacts
Ready to speak with our leasing team about a workplace community or specific suite? We're always available to help. Leasing contacts are listed at the bottom of each property page.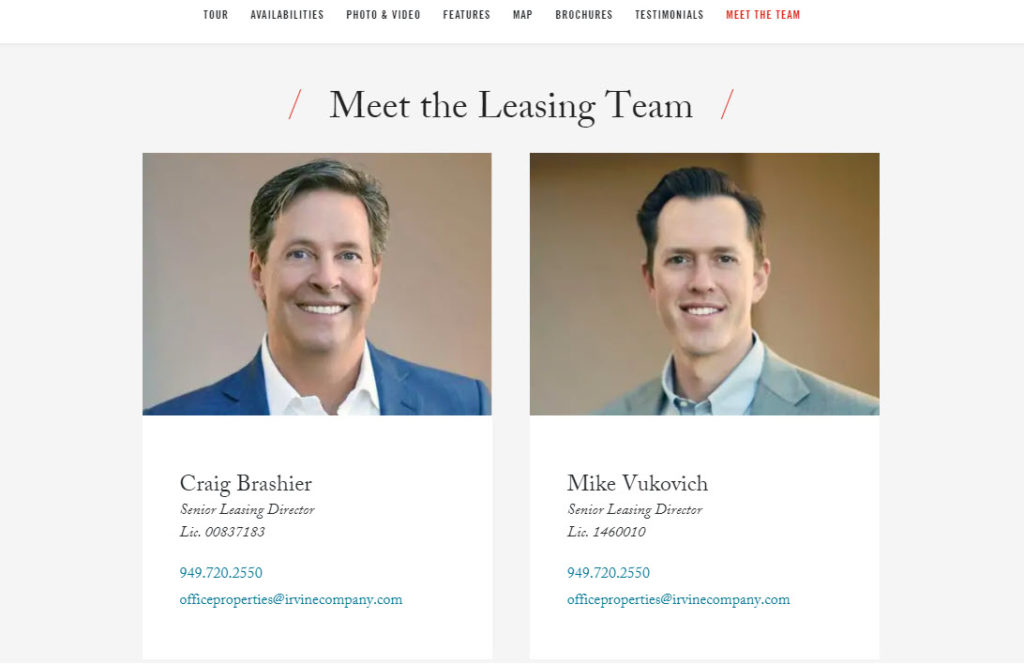 Create Tour Packages
Stay ahead of the competition with our newly redesigned Tour Package features on IrvineCompanyOffice.com. Create, print, and share suite options with your clients. Watch this video to learn more.
Pipeline Resources Hub
The Pipeline Resources page is your hub for the latest articles, insights and market research. Pipeline Tip: If you work in multiple areas, sign up to receive Pipeline emails for additional markets.