When we asked our community to share work-from-home stories, we joked about pets filling in for coworkers. You took that and ran with it, sharing stories that made us laugh and warmed our hearts. This week we are sharing stories about six of your furry friends keeping the WorkLife spirit of camaraderie alive from anywhere.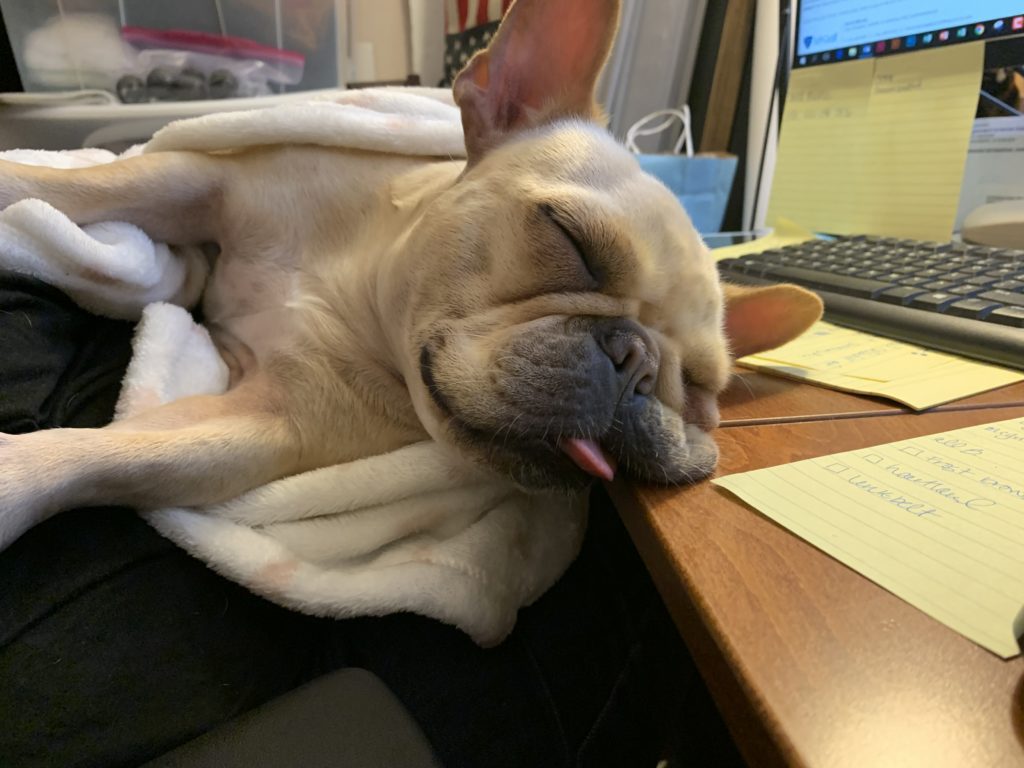 THE JUDGMENTAL SLACKERS

I hang out with my dogs, Frank and Beans, all day long! I do think that my dogs are a little bit confused with this new schedule though. I imagine some of the thoughts are: "Why are you always home? Why don't you ever get out of your PJ's? Why don't you wear make-up anymore?" I swear the other day Beans, my Frenchie, looked up at my face, then down at my feet, then back up at my face and had this look on her face. She was TOTALLY judging me!  Soon enough all of this will be over and we will all get back into our regular routines but until then I'm going to enjoy my new co-workers…even if they do fall asleep on the job.
Shannon Bradford, McGriff Insurance Services, UCI Research Park
The sloppy attention seeker
One of my co-workers is a total jerk. He bites my ankles when I don't give him attention, then he bites my hand when I do. He sleeps all day, and makes me clean up after him.
Derek McCauley, Goldman Sachs, Newport Center
The enthusiastic personal assistant
I have hired my dog Waldo as my new assistant. What he lacks in experience, he makes up for with enthusiasm. 🤣💙🐶
Jackie Rogers, Duke Realty Services, 200 Spectrum Center
The loyal sidekick
I have a registered therapy dog named Stryker. He is a Lab/Husky mix and we visit hospitals, schools, libraries and other places to bring even a few minutes of happiness to others. Now, he is one of the "read dogs" that students get to read to. It is amazing and rewarding to hear kids read a book to him. One of the elementary schools we visit also reached out to us to do a virtual story time, reading a story with Stryker by my side. Many of these students know Stryker and I am confident this will bring a smile on their faces. This warms my heart more than words can say.
Dorothy Taylor, K. Hovnanian Homes, Market Place Center
The hangry troublemaker
Most mornings there is a solo cat spin out delaying my trip to my new "office." Only after I feed him, will the road be cleared.
Kimberly Miller, MG+M Law, 400 Spectrum Center