Better care happens by design. That's the guiding principle for Midmark, an Ohio-based clinical environmental design company that enables a better care experience for medical, dental and animal health.
"We're the only company focused on harmonizing space, technology, products and workflows at the point of care," says Tim Hunter, Director of Product Development. "Our designs take into account the purpose of a space and the people working in it, and in doing so, we're transforming care experiences "
Design is at the heart of everything Midmark does, so when it came time to upgrade its Southern California office space, the company had a clear vision for what they needed. That vision ultimately led them to a custom facility at UCI Research Park.
"In our old LA office, we weren't attracting the caliber of talent we needed," reflects Hunter. "The space felt dated and the amenities were lacking. It didn't reflect who we are as a company and the innovative work we do."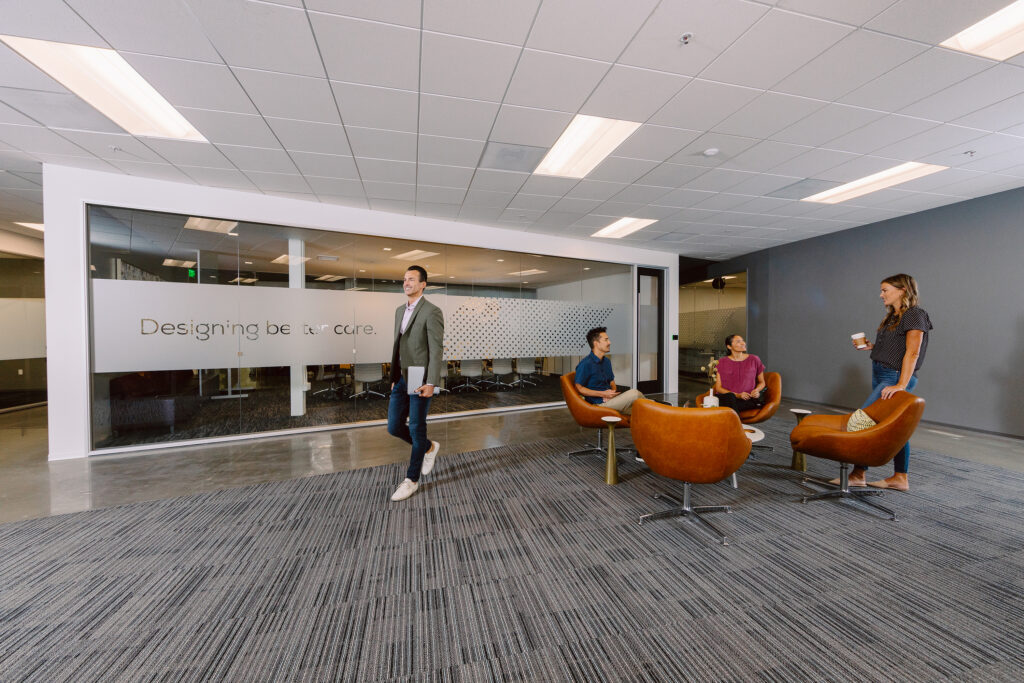 "We had some very specific design needs and UCI Research Park met them all,"

Tim Hunter, Director of Product Development.
Midmark formed a search committee, which included stakeholders at all levels of the company, and toured 24 workplaces. The committee immediately shortlisted UCI Research Park.
It's a natural fit for the company, which already has a strong partnership in place with the Henry Samueli School of Engineering at UCI. Midmark hosts student co-ops each year, giving senior engineering students the opportunity to gain real-world experience.
"Now, we're building an even stronger relationship with UCI's Engineering school thanks to our proximity — it doesn't get any easier than being right across the street. We're also partnering with The Cove to support some of their incubator projects. The opportunities for partnership are unparalleled at UCI Research Park."
In its new home at UCI Research Park, Midmark has a Southern California workspace that matches the company's innovative design vision, plus the campus amenities to attract top talent.
"We had some very specific design needs and UCI Research Park met them all," says Hunter. "We have dedicated labs to work on physical hardware and smolder materials, plus plenty of space for team collaboration. Despite ongoing supply chain issues, Irvine Company worked with us to make the build-out process as efficient as possible."
Employees love the new space, and the campus amenities are especially popular, aiding in talent recruitment and retention.
"We're very focused on fitness at Midmark, so having a state-of-the-art facility is huge, and access to walking trails are a great bonus. The conferencing space by Herb & Ranch is like an extension of our own office." 
"UCI Research Park is a total 180 from our old location. Our team loves it, and it really reflects who we are as a company and where we're going."