New leases bring newest phase of the 1.1 million SF community to more than 50% pre-leased; construction recently completed December 2020
Designed with health and wellness in mind, enhanced cleaning regimens, premium air filtration and maximum ventilation, 33 acres of outdoor space, and amenities featuring indoor/outdoor connections
Irvine Company today announced two new leases totaling 60,000 square feet at Spectrum Terrace, Orange County's ultimate workplace destination located at the highly visible intersection of three freeways in Irvine Spectrum.
The 1.1 million-square-foot campus brings together unmatched amenities that encourage wellness, world-class architecture, indoor-outdoor connectivity, and expansive outdoor spaces. Spectrum Terrace customers have access to The Commons, an outdoor gathering area with shaded workspaces; KINETIC™ luxe fitness center, a unique, integrated approach to workplace wellness; Terrace Kitchen + bar, featuring an eclectic menu, wine, and craft beer taps, and coffee bar; and Venue, a fully equipped meeting, and events space with indoor/outdoor connectivity and attached catering kitchen, coffee bar, and grab-and-go counter.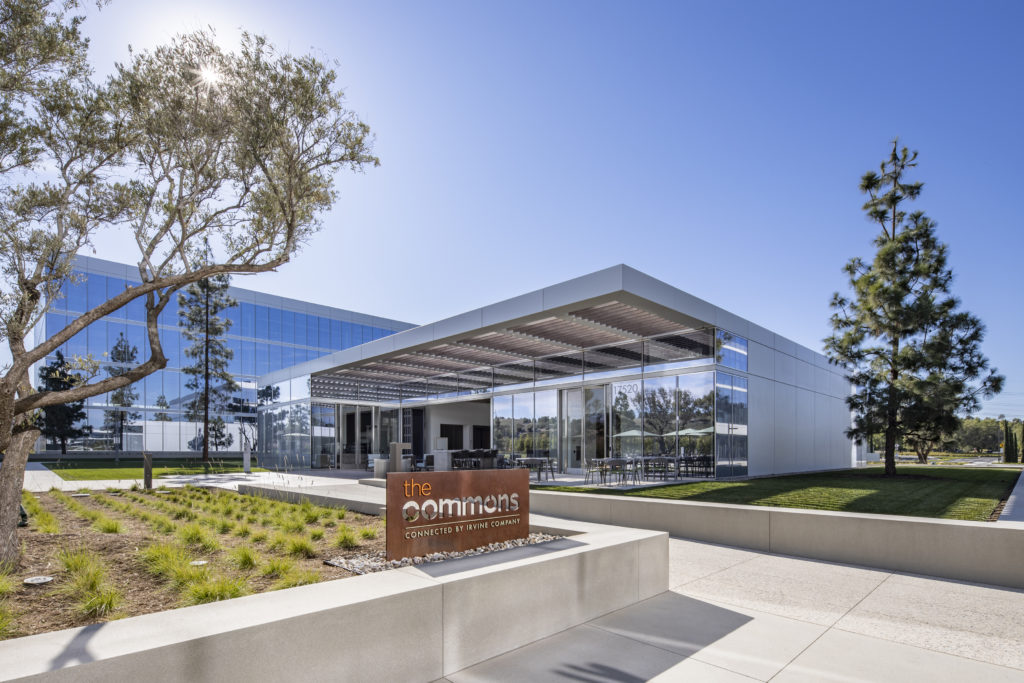 The new customers at 17400 Laguna Canyon include:
RSM US LLP (RSM), the nation's leading provider of audit, tax, and consulting services focused on the middle market, which leased approximately 30,000 square feet.
iHerb, an online retailer for vitamins, supplements and natural products, who leased approximately 30,000 square feet.
"The leasing activity at Spectrum Terrace has been a key indicator that companies remain bullish about Orange County's business climate, our ability to weather the current healthcare pandemic and to come back even stronger," said Tom Greubel, vice president of leasing, Irvine Company Office Properties. "We've thoughtfully and strategically designed our workplace communities with wellness in mind to provide healthy work environments and peace of mind for our customers."
Leaders from RSM said Spectrum Terrace's design, amenities, and location coupled with Irvine Company's commitment to wellness contributed to the decision to relocate from the Airport Area.
"We were looking for a world-class workplace community where our people and our clients can find inspiration to grow and succeed," said Paul Short, partner and Orange County office leader, Irvine with RSM US LLP. "We believe Spectrum Terrace offers a number of competitive advantages that will contribute to our growth once we can safely return to an office environment and in-person meetings."
Director of Real Estate for iHerb added: "Spectrum Terrace provides a workplace community that we are very excited to be a part of. From the beautiful and expansive indoor/outdoor spaces to one-of-a-kind amenities, and an ideal location near the region's top talent, it will all certainly aid in our recruitment and retention efforts." 
Spectrum Terrace features 33 acres of outdoor space, ground-floor sliding doors, and private patios to bring fresh air and sunlight into the workspace and high-efficiency MERV 13 air filtration to maximize interior fresh air exchange and air quality. 
Irvine Company is the first in the nation to have its workplace communities designated as Verified Healthy Buildings, through a program managed by UL, a global safety science leader recognized for their indoor environmental quality services. 
Irvine Company also partnered with UCI Health to review and enhance its comprehensive program to help companies come back with confidence to its more than 50 million square feet of workplace communities. With new cleaning regimens, safety etiquette signage, touchless entries, maximized ventilation rates, and hundreds of hand sanitizing stations,  Irvine Company has invested in the health and safety of its customers. 
"Our experience anticipating the needs and desires of our customers have positioned us well so that they and their employees can come back with confidence," Greubel added. 
Spectrum Terrace and Irvine Company's Orange County workplace communities have continued to see high demand – even throughout the height of COVID-19. In the last six months, Irvine Company has signed nearly two million square feet of leasing to more than 200 companies in Orange County.
The new leases bring the three buildings in the second phase of Spectrum Terrace to more than 50% pre-leased.  
Located at the intersection of the 405, 5, and 133 freeways, Spectrum Terrace's buildings are arranged in three terraced office "neighborhoods" that are adjacent to thousands of acres of easily accessible coastal wilderness that has been permanently preserved as part of Irvine's master plan, as well as a 1.5 mile-long jogging and walking trail to make it convenient for employees to enjoy some fresh air and exercise.