"We're really excited about the future and where we're going."
When McGriff, one of the leading full-service retail insurance brokers in the U.S., decided to bring its Orange County risk management and employee benefits teams under one roof, executives knew choosing the right workspace and amenities would be key for successful integration to drive business success.
The company didn't have to look far.
It chose the second floor of its existing workplace at UCI Research Park, where the employee benefits teams and Precept Advisory Group, a McGriff subsidiary, have been for almost 20 years. The space now boasts more than 100 employees including McGriff teammates formerly based in Anaheim.
"We have new energetic management changing our ways here, and we want to become the premier insurance brokerage – the place to be," said Dave Gottwals, insurance president for the Company's California region.
The address may be the same, but the office has been significantly upgraded. It now includes larger, refurnished conference rooms named after iconic California destinations like Mammoth and Big Bear, along with beautiful photography throughout the entire workspace. It also includes a large newly remodeled kitchen that serves as a gathering place for breaks and brainstorming sessions.
For more than 100 years, McGriff — a subsidiary of Truist Insurance Holdings, the seventh-largest insurance brokerage in the world — has provided customized insurance, risk management, property & casualty, surety, personal lines, and employee benefit solutions for companies of all sizes. The upgraded office is important to propelling the company's continued success by fostering increased collaboration and integration across teams.
McGriff's Orange County leaders felt confident the on-site and nearby conveniences and amenities, such as upscale restaurants, outdoor barbecues, and sports courts would delight, energize and lead many employees to choose to return to the office in person after two years of remote work due to the pandemic.
"There's a definite enthusiasm and we are seeing a lot of collaboration," Gottwals said. "We're really excited about the future and where we're going."
Employees at a recent grand re-opening celebration said they were grateful to be together and inspired by the quality of the remodel and the entire UCI Research Park.
"The concept of brainstorming and bringing people back together, actually getting off our headphones and getting our AirPods out of our ears. What a great feeling to meet live," said Erin Hoefer, Senior Vice President of Consulting Services. "There's a real energy coming back to this new office. We're coming back with great confidence."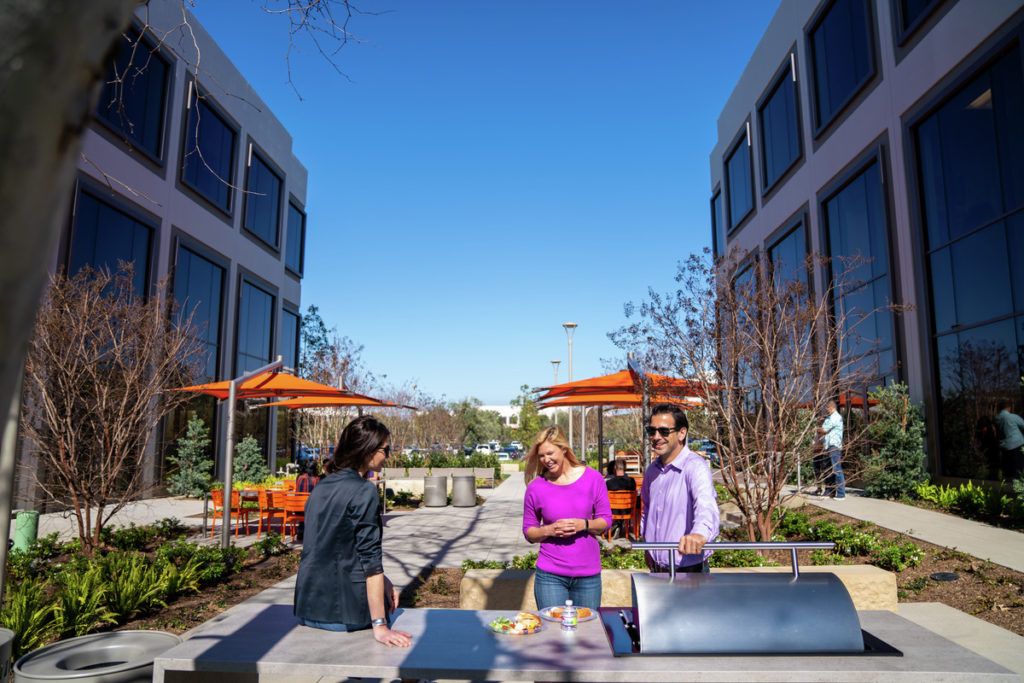 The company is already planning to use the outdoor barbecues for team-building events. Prior to the pandemic, employees enjoyed friendly competition on the outdoor volleyball courts, something they hope to resume.