After months of working remotely, teams are eager to connect in person, and sharing a meal or coffee break together is one ritual many coworkers miss. But extended time in small spaces – like an employee break room – may increase the potential for COVID-19 transmission. 
"The riskiest part of any employee's day is when they are eating," cautions Dr. Susan Huang, an infectious disease expert at UCI Health. "Not only does the mask come off, but people naturally are taking a break and want to let their guard down and relax with friends and co-workers.
In addition to addressing concerns about where to eat, companies must also consider how their employees will access food onsite. COVID-19 safety protocols have closed traditional cafeterias with hot and cold buffets stations, and waiting in long lines to place food or coffee orders can also feel risky. 
Innovative dining solutions ensure employees enjoy access to a wide variety of fresh, delicious food options and open-air spaces to eat these meals safely. These are four trends to watch for workplace dining in 2021: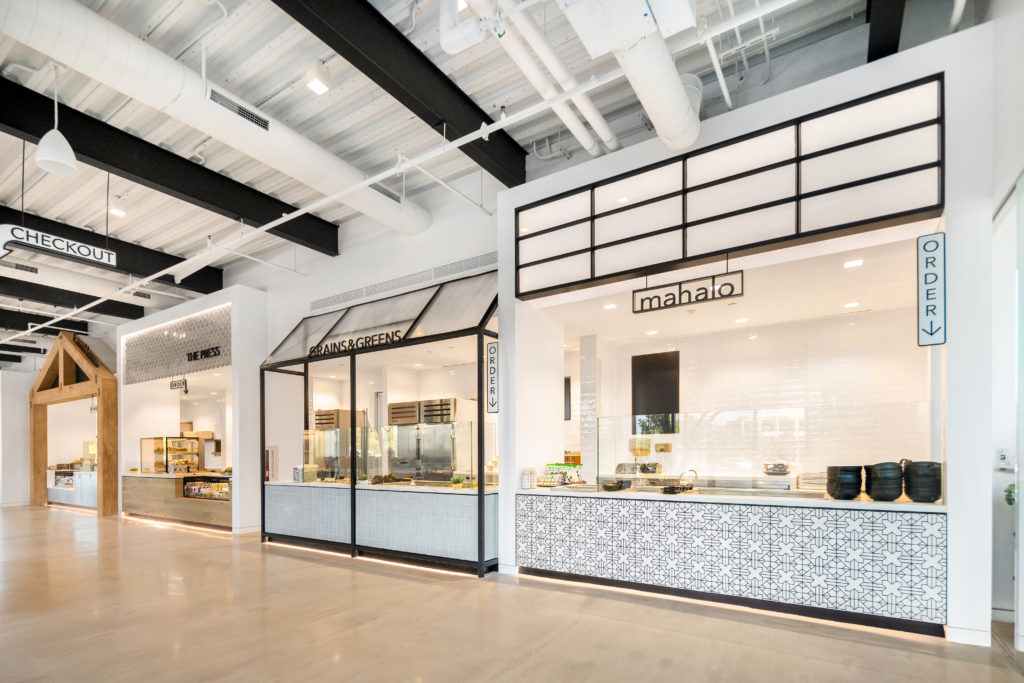 Goodbye buffets, hello food halls. Traditional cafeteria-style dining halls and buffets are being replaced with food halls, offering employees meal variety without the risk of an open buffet. Even before COVID, Irvine Company has been at the forefront of this trend, pioneering innovative food hall concepts like UCI Research Park's Herb & Ranch. Herb & Ranch's founder, the Top Chef and Food Network star Brian Malarkey, describes his dining concept as "Very fast and very healthy; it's fun, it's not processed, it's really just local, great food."
2. Easier to-go options. To-go options have become the gold standard for restaurant customers, and this same trend is carrying over to the workplace. On-site cafes are expanding their grab-and-go options and adjusting their menu to support a full to-go operation without sacrificing fresh food and flavors. Pacific Kitchen at MacArthur Court in Newport Beach, for example, offers self-checkout kiosks so customers can efficiently order to-go items with minimal human contact. The Commons West Cafe at Santa Clara Square offers catered meal boxes prepared fresh daily and a "Pantry Provisions" program for companies to keep employees energized with single-serve snacks.
3. Order ahead with apps. Rather than waiting in line to place your morning coffee order, on-site cafes are increasingly using apps to manage orders and payment. And apps aren't limited to options available on-site. Dining Express, already in use throughout Irvine Company's Orange County portfolio, makes it easy to order lunchtime delivery options. Fooda at Jamboree Center is piloting a service that allows companies to subsidize employee lunches.
4. Open-air dining space is the new break room. Employees are eager to connect, but small break rooms are not ideal. Having safe spaces where colleagues can feel comfortable eating lunch or chatting over coffee supports the social ties that boost employee engagement and strengthen corporate culture. Irvine Company's open-air outdoor spaces are equipped with sanitizing stations, offer comfortable, shaded seating, and many are located near on-site cafes– a convenient option for teams to connect with confidence.
Catered lunch meetings and "Taco Tuesday" buffets may be a thing of the past for now, but innovative workplace dining trends ensure teams can still enjoy the simple pleasure of safely sharing a meal together.